Throughout the late-thirties and forties, 20th Century-Fox released a series of charming Technicolor musicals. While no classics emerged — no "Singin' In the Rain" or "Bandwagon" — crowds were pleased in droves by the fluffy boy-meets-girl stories set in soundstage recreations of colorful places and wrapped around a dozen or so tuneful musical numbers.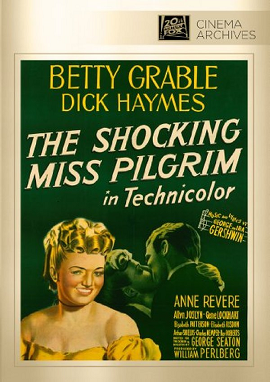 And then there were the stars: Betty Grable, Alice Faye, Dick Hames, Dan Dailey, John Payne, Carmen Miranda, Cesar Romero, Don Ameche…
For some frustrating reason, though, these enchanters have been slow to find their way to DVD (the best of them all, "Springtime In the Rockies," is still unavailable), but through Fox's new archive collection, we now have access to 1946's "The Shocking Miss Pilgrim."
Unfortunately this release is for Betty Grable fans only. Even under late-19th century garments, Grable's socko charisma, stunning figure, and apple-cheeked beauty remain un-dimmed. Everything else, though, is lacking.
Grable plays an early Boston feminist fighting for suffrage. Crooner Dick Haymes is her nice but sexist old-fashioned boss. The leads are perfectly fine, but the musical numbers are horribly bland.
I've read that George and Ira Gershwin unloaded a bunch of songs they otherwise couldn't sell on to writer/director George Seton, and it shows. Not a single note swells your heart or taps your toe. Also missing is Fox's colorful supporting cast. There's no Carmen Miranda, Charlotte Greenwood, or Edward Everett-Horton to liven up the scenes; no Nicholas brother to make you glad to be alive.