CLEVELAND – Many offices here told employees to wear Indians gear to work, and fans who couldn't get tickets watched a few blocks away at places like a luxury bowling alley (photo above). However, just before midnight fans cleared out after a disappointing shutout (photo below). Still, Cleveland sports fans have been treated to the Indians making the playoffs a year after going 68-94, a Browns team taking a stunning two-game winning streak into a Thursday night game a few blocks away, and even whispers of LeBron James potentially coming back to join a much improved roster in the near future.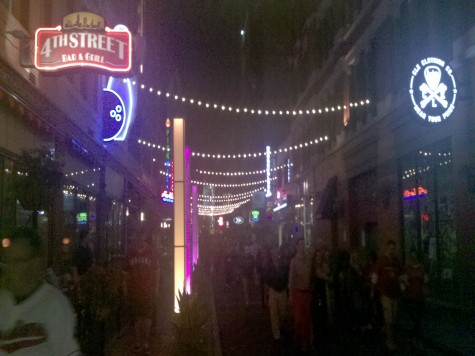 For the first time ever, Major League Baseball was able to produce three straight nights of one-on-one sudden death baseball games, which created a rare buzz in Texas Monday, Pittsburgh Tuesday, and then two hours up the road Wednesday in Cleveland.
Sports radio was abuzz with confidence before the start of the game, but the pitching match-up favored the Rays. While they did not have David Price, Alex Cobb had a big edge as the 84th best pitcher in the majors at www.valueaddbaseball.com, compared to the Indians Danny Salazar who ranked 194th best. The Indians gave the fans from the bars to the stadium plenty to cheer about with eight hits in less than seven innings off of Cobb, but could never push a run across.
The gasps went out Delmon Young drilled a homer to start the third inning off Salazar, and an inning later he left with the Indians trailing 3-0 after four innings.
Ubaldo Jimenez was the Indians top rated pitcher, but he had to throw Sunday to make sure the Indians made the playoffs. Justin Masterson was their best pitcher until a late season injury, and had won an incredible games by a score of 1-0. Masterson had just returned in the past week and was only able to throw a couple of innings, so he was saved for the 8th and 9th innings.
Masterson came in and shut out the Rays in the seventh and eighth innings, perhaps making Indians believe he could have pulled out another 1-0 miracle win if healthy.
The Indians fans were the first ever to sell out a stadium for an entire season, and then did it again en route to 455 straight sellouts, only to have the team dump Jim Thome and other stars. The had the ultimate betrayal when LeBron James from down-the-road in Akron left for Miami. They were shocked when Trent Richardson was traded two weeks ago and many predicted they would not win two games this year – only to win two in a row with the spotlight on them Thursday. Two weeks ago they looked dead in the wildcard race, only to win their final 10 regular season games heading into Wednesday's game.
The conversations in the streets downtown here contain disappointment, but a bit of excitement over just being there and playing a game that mattered. Much like the classic movie Major League, winning sports may be back in Cleveland out of nowhere.