Donald Trump dropped 5 points, and Ben Carson gained 6 points, according to the latest large-scale national poll produced by Morning Consult.
Trump dropped from 40 percent in mid-October, down to 35 percent support, while Carson zoomed up from 14 percent to 20 percent this weekend.
There was little other movement in the poll. That stability suggests that Carson is taking votes from Trump, not from any other candidate.
Gov. Jeb Bush drifted up to 8 percent, gaining 2 points, according to the Oct. 22-25 poll of 1,689 registered voters.
Sen. Rubio was stuck at 6 percent, up 1 point from the prior poll.
Counting second-choice votes, Trump gained 11 points, to put him at 46 percent, while Carson jumped 19 points, up to 44 percent in first- and second-choice votes. Those large numbers suggest that roughly half of their supporters will back either candidate, Carson or Trump.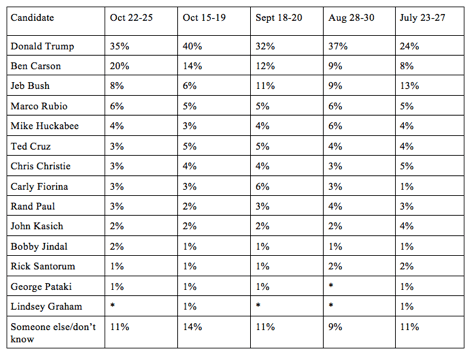 In contrast, Jeb Bush gained only 8 second-choice points, leaving him at 16 percent.
Overall, the GOP's anti-establishment candidates took 63 percent of the primary vote, up from 54 percent in mid-September.
Insiders, including Bush, Rubio, and Gov. Chris Christie, held 25 percent.
Carly Fiorina's three percent score was unchanged from mid-October.
The someone-else/don't-know faction held 11 percent of the votes.
Sen. Lindsey Graham did not register any support in the poll.