Editor's note: The presidential nominating contests in both parties will come down to the California primary.
For Democrats, 548 delegates are at stake — 11.5% of the total. For Republicans, 172 delegates are at stage — 6.9% of the total. Of those, for Democrats, 158 (29%) are divided proportionally on a statewide basis, while 317 (58%) are divided proportionally by congressional district, with each district providing between 5 and 8 delegates. The remaining 73 (13%) are "superdelegates."
For Republicans, 13 (8%) are awarded statewide, with ten going to the candidate with the highest number of votes on a winner-take-all basis, and three going to "pre-determined" delegates (the State Chair, National Committeewoman, National Committeeman). Meanwhile, 159 (92%) are awarded by congressional district on a winner-take-all basis, with each district providing 3 delegates.
The result: a district-by-district battle in both parties, which we preview for you here.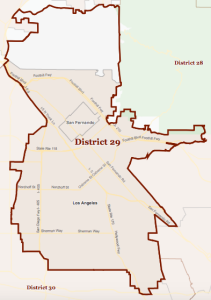 CA-29: This San Fernando Valley district may not have invented traffic, but it has perfected it. Both the 405 and the 5 run through this district, which includes several suburbs along the commuter route, from Valley Village in the south to Sylmar in the north. The district, represented by moderate Democrat Tony Cárdenas, includes "Porn Valley," the embattled studios currently fighting a statewide ballot initiative to require condoms in all adult films.
Prospects:
Democrats: Clinton will edge Sanders in this moderate district of homeowners, commuters, and civil libertarians.
Clinton 3, Sanders 2
Republicans: Though the district's demographics favor Cruz slightly, "Porn Valley" will go for The Donald.
Trump 3, Cruz 0, Kasich 0
Joel B. Pollak is Senior Editor-at-Large at Breitbart News. His new e-book, Leadership Secrets of the Kings and Prophets: What the Bible's Struggles Teach Us About Today, is on sale through Amazon Kindle Direct. Follow him on Twitter at @joelpollak.