A new Pew poll adds evidence that Donald Trump has halved the roughly eight-point gap that Hillary Clinton's experienced and disciplined campaign created in early August.
The Pew poll of registered voters shows that Trump has 37 percent support, Clinton has 41 percent, leaving a four-point gap. That's less than the nine-point gap seen in a prior Pew poll in June. Ten percent of respondents preferred libertarian Gary Johnson, and four percent backed Green Party candidate Dr. Jill Stein.
The evidence of the smaller gap is available at the RealClearPolitics' collection of polls, which shows Clinton building a huge lead in early August — and then losing half that lead in the next week as Trump stabilizes his campaign. 
Clinton led with an average lead of four points in four national polls on August 18. Her lead was five points in three national polls on August 11.
But her lead was 9 points in four national polls on August 9, 8 points in seven national polls on August 4 and 7 points in four polls on August 1.
On July 25, 8 national polls showed Trump with a 0.5 percent lead.
There's plenty more data in each of these polls which experts can argue over indefinitely. Much of that data is skewed by voters's current preference. For example, most of Clinton's voters say they're optimistic about current circumstances and trends. But they're mostly Democrats who, one could imagine, don't want to indirectly criticize President Barack Obama by saying the nation is heading in the wrong direction. 
But a few points stand out.
Despite massive support from the established media, numerous Trump mistakes and her own skilled campaign team, Clinton has reached 50 percent in only two polls. That result shows strong public resistance to Clinton — which gives Trump another chance to pull ahead, if he can reverse the swing-voting public's distaste for him.
According to Pew;
Just 27% of registered voters say that Trump would make a good or great president, while about twice as many (55%) say he would be either poor or terrible (with 43% saying he would make a "terrible" president). Just 15% say Trump would make an "average" president.
That means 42 percent of respondents say Trump would be an average, good or great president.
Opinions about how Clinton might do as president are not as negative. Still, only about a third of voters (31%) say she would be a good or great president, while 22% say would be average and 45% think she would be a poor (12%) or terrible (33%) president.
Clinton has 53 percent of Americans who say she would make a great, good or average president. Which means Trump has to claw back some of the 22 percent who say Clinton would be an average president, which he may achieve by a combination of negative and positive campaign strategies.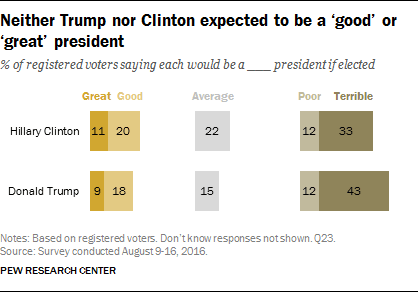 He's got an advantage among men, she's got a bigger advantage among women.
There continue to be stark differences in candidate support across demographic groups. Women back Clinton over Trump by a wide 49% to 30% margin, while men support Trump by 45% to 33%.
Trump may be able to pick up more support among college-educated voters, who are so far reluctant to accept his message about Clinton's corruption and the economic threat facing them from imported white-collar labor and the pending fee-trade deal.
And there remain pronounced educational divides: Those with postgraduate degrees back Clinton by about three-to-one (59% vs. 21%); among those with some or no college experience, preferences are divided (41% back Trump, 36% Clinton, 9% Johnson and 5% Stein).
The Pew poll was conducted from August 9 to August 16, and it reached 2,010 adults, including 1,567 registered voters.