Donald Trump has jumped into a 2-point lead over Hillary Clinton, according to a new national poll of 800 likely voters by Emerson College.
Trump scored 43 percent to Clinton's 41 percent. The poll's margin of error is 3.4 percent, so the apparent lead is basically neck-and-neck, but Emerson has a good rating among pollsters. The poll was conducted from Sept. 11 to Sept. 13, amid rising public concerns over Clinton's health. 
Libertarian candidate Gary Johnson got 9 percent of the national vote, and Green Party's Jill Stein got 2 percent, said Emerson.
A separate poll by Emerson's polling also gave Trump a four-point lead in Colorado, 42 percent to 38 percent. Trump holds the lead, partly because Johnson gets 13 percent in the state. Emerson also showed Trump ahead in Georgia by 6 points, by 13 points in Missouri, and by 28 points in Arkansas.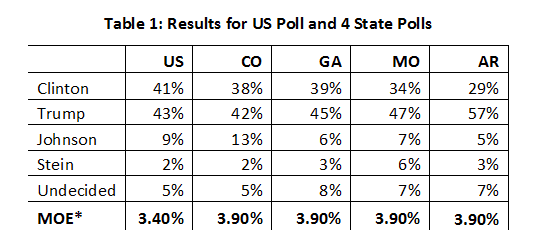 Each state poll included 600 likely voters, and each had an error margin of 3.9 percent. The four state polls were conducted from Sept. 9 to Sept. 13. 
Emerson's new polls also show that more voters think Trump can win the race. "Only 45% of the national electorate [are] saying Clinton will win, compared to 43% who say Trump will" win, said Emerson.