Aboard Hillary Clinton's campaign plane, Communications Director Jennifer Palmieri is answering questions about her anti-Catholic remarks that were exposed by WikiLeaks.
"I'm a Catholic. I don't recognize that email that we saw," she replied.
Campaign chief John Podesta was also asked about the remarks.
"I'm a Catholic, I don't recognize that email that we saw," he said.
The carefully crafted statements are piling up, as campaign aides refuse to confirm or deny the veracity of the leaked Podesta emails.
Podesta continues portraying himself as a "victim" of Russian spies, speaking to reporters aboard Clinton's campaign plane.
"This definitely is the first campaign that I've been involved with in which I've had to tangle with Russian intelligence agencies," he said, accusing them of "doing everything that they can" for Donald Trump.
Podesta has tried to stay on message, but the embarrassing hacks continue.
His Twitter account was also hacked on Wednesday, sending a message that he had switched sides, proclaiming support for Donald Trump.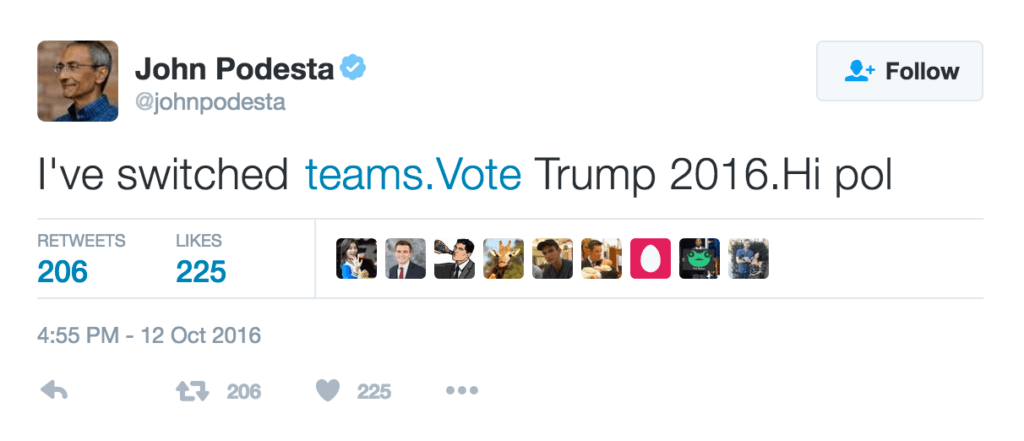 "Bill Clinton is a Rapist!"
The Clinton campaign has another problem. Protesters are storming into Clinton's campaign rallies and shouting that Bill Clinton is a rapist.
It used to occur sporadically, but currently rallies for Clinton and her surrogates are being interrupted multiple times, angering her supporters.
In Las Vegas on Wednesday, a group of male supporters quickly surrounded and attacked a protester, shoving him to the ground, while ripping his shirt.
Bill Clinton was also interrupted in Waterloo, Iowa on Wednesday by a couple.
"You're a rapist!" a man shouted. "Bill is a rapist! He's a rapist!" he yelled repeatedly.
"Wait, wait, wait. Give that guy a hand. They've had a very bad week," the former president replied, referring to the Trump campaign.
Bill Clinton cautioned his supporters not to attack the protester.
"That's what's wrong with American politics," he said. "And I don't want you to treat them they way that they treat you."
On the campaign plane, Clinton aides were asked about the protesters, but Palmieri tried to be dismissive.
"These are people that are being paid to come and heckle her," she insisted. "It's just more of the effort that Trump is undertaking to try to intimidate her. He will find that it will not have much effect."
But the message of mock sympathy for the protesters appears to be coordinated by the campaign
"You do have to feel a little sorry for them. They've had a really bad couple of weeks," Hillary Clinton said in response to a protester in Pueblo, Colorado on Wednesday.