HILLSBOROUGH, North Carolina — Republican vice presidential candidate Gov. Mike Pence visited the site of the firebombed GOP headquarters in North Carolina along with a few Republican officials Tuesday where he spoke of the vandalism and destruction of the site.
Pence made the stop ahead of two campaign rallies in the state on Tuesday in Wilmington and Fayetteville.
Pence at vandalized North Carolina GOP office, calls it act of "political terrorism" pic.twitter.com/CxmQk5Pq8F

— Michelle Moons (@MichelleDiana) October 18, 2016
Upon arrival Gov. Pence was greeted and taken inside to view the damage. As he spoke with a few Republicans inside he asked a couple of GOP officials if they had a new location yet and asked that they let him know if they need any help. Pence responded to two of those he spoke with, saying of the attack, "It's political terrorism."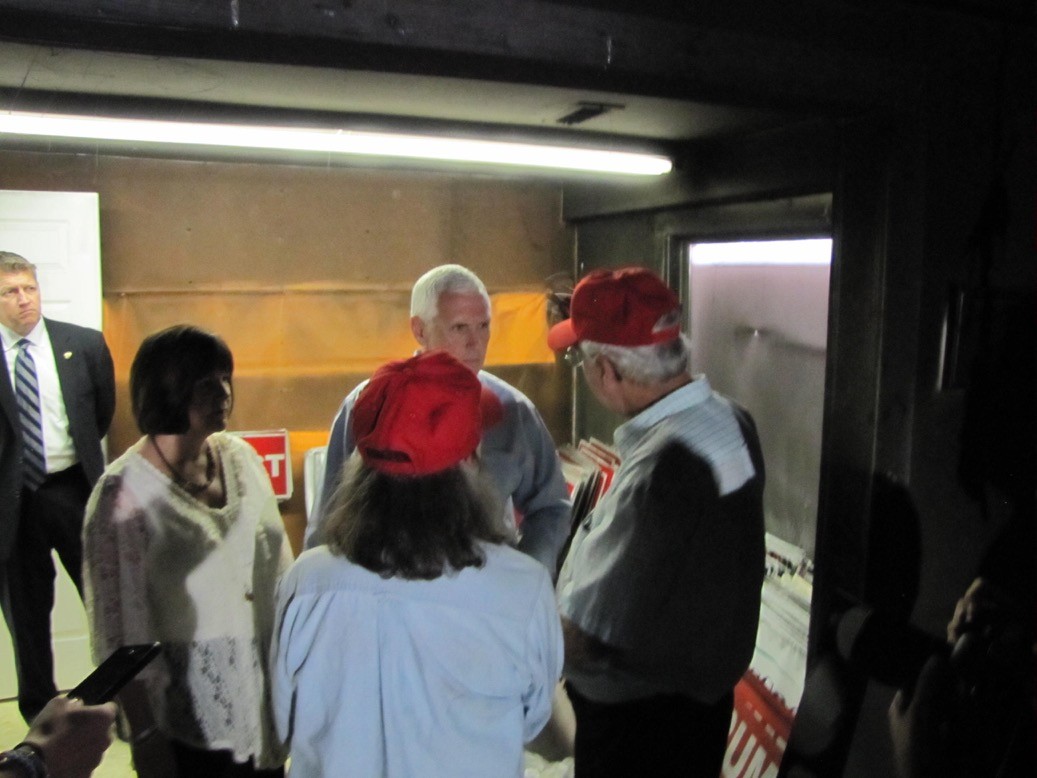 Evelyn Poole-Kober, vice chair of the Orange County GOP, said to Pence, "Thank you for what you're doing and you have our support."
As he stood in front of the building, Pence addressed the volunteers, GOP officials and reporters who had gathered:
I wanted to come by to draw attention to this cowardly attack on our supporters in North Carolina and to no less extent, an attack on the American political system. 

This was an act of political terrorism.

And I have to tell you how inspired I am to see the way this community has come together, people have come together, to continue to move forward, undeterred, unintimidated by this senseless act of violence. And we are truly inspired. I would say to our neighbors and friends, it's important as here in North Carolina, you are truly inspiring people across this state and across this nation with your resilience and your courage in the face of this unprovoked attack.

We are so thankful, thankful to God that there was no loss of life. I spoke to the chairman inside as we surveyed that damage and he shared with me that he would often sleep on that couch that was engulfed in flames sometime this last Saturday night and we're just so grateful that there were no injuries as a result of this attack but it could well have been otherwise.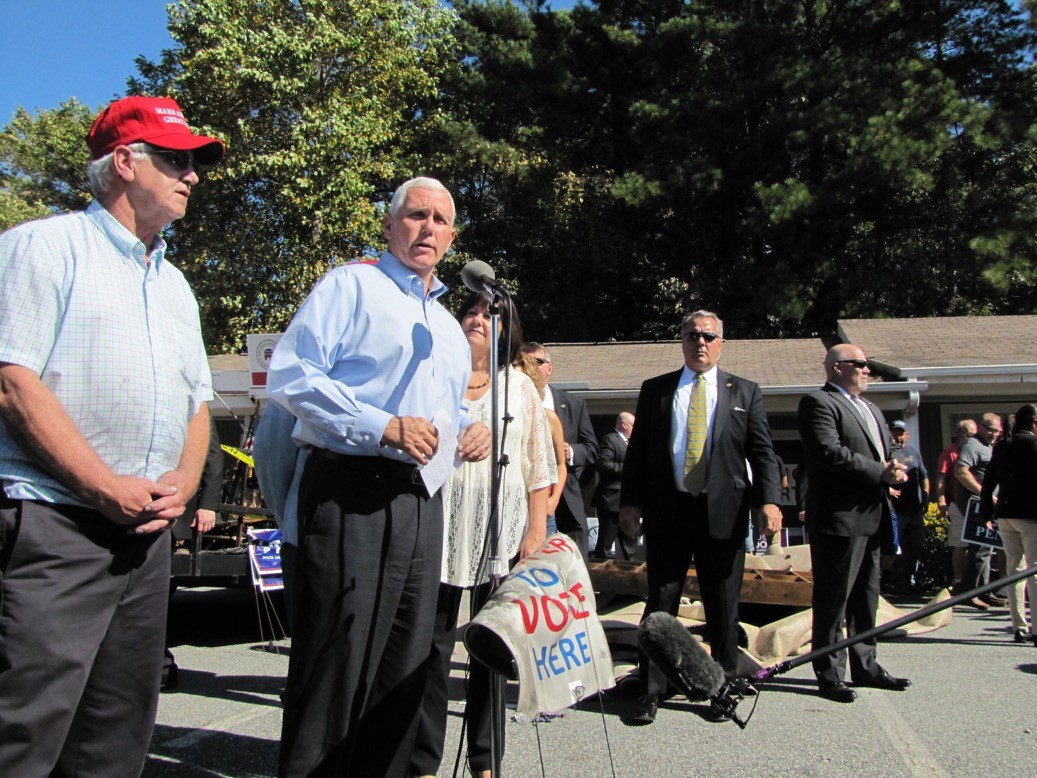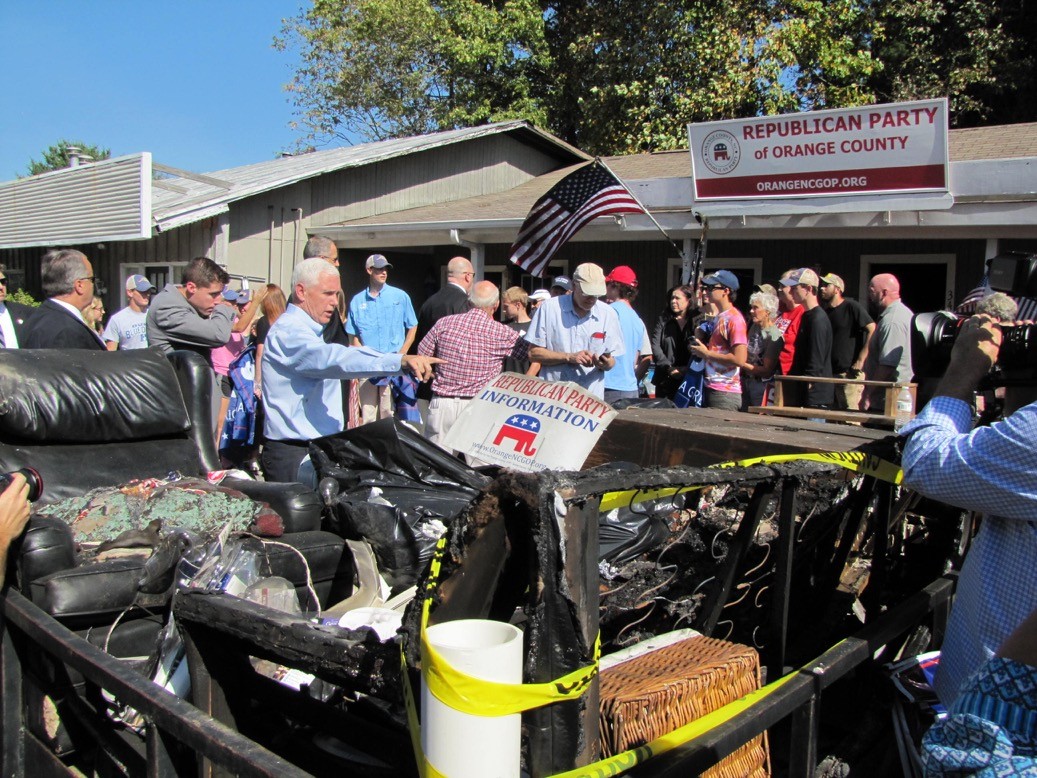 The Republican officials that joined Pence were Orange County GOP chair Daniel Ashley and State Party Executive Director Dallas Woodhouse. Local volunteers working on cleaning the office out were also present.
Law enforcement officials said that on the night of October 15 vandals threw a bottle of flammable liquid through a window of the Republican Party campaign office. The action was described as a firebomb and caused the building to be engulfed in flames. "Nazi Republicans get out of town or else," was also spray painted the the outside of a nearby building.
North Carolina Gov. Pat McCrory condemned the attack within a day, calling it "clearly an attack on our democracy."
Hillsborough Mayor Tom Stevens also had severe words for the attack last Sunday, "This highly disturbing act goes far beyond vandalizing property; it willfully threatens our community's safety … and its hateful message undermines decency, respect and integrity in civic participation."
Pence made time for the stop in the midst of a scheduled visit to the state for two Tuesday campaign rallies in Wilmington and Fayetteville. He will also be donating canned goods to flood victims at the Wilmington rally.
Follow Michelle Moons on Twitter @MichelleDiana