The Democrats' 2018 chances will be damaged by the government shutdown if voters blame the Democrats' pro-amnesty agenda, a Washington Post report admitted Thursday evening.
The good news for President Donald Trump and the bad news for amnesty-advocates was buried in the last paragraph of the article, which is based on a poll conducted for Minority Leader Sen. Chuck Schumer:
If Democrats can make this looming shutdown about Trump and his ability to govern, they will be in a strong position to win the fight nationally and help the "Big Five [Democratic Senators]" hold their own.

If Republicans can make it about immigration, the victory is probably theirs.
The article spends much time describing shutdown fights under former President Barack Obama before it reveals polling data gathered by Schumer's Senate Majority PAC. The data shows that the voters in the 12 Trump-leaning states which will hold Senate elections in 2018 would blame Trump and the GOP over the Democrats for the shutdown by 45 percent to 35 percent overall, said the article, before noting:
But the public view shifts if voters think the government is shuttering because of the immigration issue, particularly in five states that Trump won in 2018 by overwhelming margins and where Democratic senators face reelection in November: Indiana, Missouri, Montana, North Dakota and West Virginia.

In those five states, voters split the shutdown blame evenly between Trump and Democrats. That result shifts, 48 percent to 39 percent, onto Democratic shoulders if the DACA issue is what led to the shutdown.
Democrats have already shown they fear a public punishment for the amnesty push by trying to portray the shutdown as a dispute over healthcare funding.
The Post article ignores two critical issues.
First, Schumer's polling likely understates the public's hostility to immigration because many voters are loath to admit they worry about the economic impact of migrants, even as they are also eager to show that they like immigrants in general. That polling split is commonplace and is usually ignored by Democrats — including by Schumer during his disastrous 2013/4 "Gang of Eight" amnesty push which demoted him to the minority in 2014.
Business groups and Democrats prefer to tout their misleading "Nation of Immigrants" polls which pressure Americans to say they welcome migrants, including the roughly 700,000 'DACA' illegals and the roughly 3 million 'dreamer' illegals. The alternative "priority or fairness" polls — plus the 2016 election — show that voters in the privacy of the polling booth put a much higher priority on helping their families, neighbors, and fellow nationals get decent jobs in a high-tech, high-immigration, low-wage economy.
Second, regardless of the promising polling data, GOP leaders really do not want to fight the 2018 election over immigration because their donors do not want them to validate public opposition to cheap-labor migration.
The most obvious evidence of this self-inflicted wound is the GOP's 2018 campaign chief, Colorado Sen. Cory Gardner. Instead of pouring rhetorical salt into the Democrats' amnesty wound, he is actually working closely with Sen. Dick Durbin and Sen. Lindsey Graham to push and shove President Donald Trump to break his presidency and wreck his 2018 campaign chances by accepting the very unpopular "Gang of Six" amnesty.
If Gardner has his way, he and like-minded Republicans — including House Speaker Paul Ryan — will try to make the 2018 elections all about tax policy and will ignore the Democrats' deeply unpopular, all-out campaign to import millions of wage-cutting workers for jobs that would otherwise be sought by American voters – or by their sons and daughters, their spouses and neighbors, friend and acquaintances.
As Sen. Durbin recently told his home-state voters:
I'm focused on one thing — not that meeting — but on making sure that those who are being protected by DACA and eligible for the DREAM Act have a future in America. I am focused on that full time. 
Sen. Durbin responds to @SenTomCotton who says he "misrepresented" what @realDonaldTrump said during Oval Office meeting when @SenatorDurbin says referred "shi-hole" countries. @cbschicago pic.twitter.com/NflI5XzlhC

— Mike Puccinelli (@MPuccinelliCBS2) January 15, 2018
Unsurprisingly, some GOP leaders, including Rep. Raul Labrador, say Trump and the GOP should push their amnesty advantage in 2018.
GOP Majority Leader Rep. "Kevin McCarthy and the Senate leadership need to make it about this — if we can't make a deal that takes care of the border security issue, then we need to walk away from the table and just say 'Fine, let the American people decide,'" Labrador told Breitbart News January 12.
"I know the American people will be on the side of security and enforcement and they will not stand with the Democrats," said Labrador, who is retiring from Congress to run for the governorship of Idaho.
Labrador also said his "Securing America's Future Act" immigration-and-amnesty bill will also help raise wages for votes by trimming the inflow of legal immigrants. "We need higher wages — that is the most important thing," he said.
On Friday morning, Trump showed that he wants to highlight the Democrats' push for amnesty in the 2018 elections.
Government Funding Bill past last night in the House of Representatives. Now Democrats are needed if it is to pass in the Senate – but they want illegal immigration and weak borders. Shutdown coming? We need more Republican victories in 2018!

— Donald J. Trump (@realDonaldTrump) January 19, 2018
Four million Americans turn 18 each year and begin looking for good jobs in the free market.
But the federal government inflates the supply of new labor by annually accepting 1 million new legal immigrants, by providing work-permits to roughly 3 million resident foreigners, and by doing little to block the employment of roughly 8 million illegal immigrants.
The Washington-imposed economic policy of economic growth via mass-immigration floods the market with foreign labor, spikes profits and Wall Street values by cutting salaries for manual and skilled labor offered by blue-collar and white-collar employees. It also drives up real estate prices, widens wealth-gaps, reduces high-tech investment, increases state and local tax burdens, hurts kids' schools and college education, pushes Americans away from high-tech careers, and sidelines at least 5 million marginalized Americans and their families, including many who are now struggling with opioid addictions.
The cheap-labor policy has also reduced investment and job creation in many interior states because the coastal cities have a surplus of imported labor. For example, almost 27 percent of zip codes in Missouri had fewer jobs or businesses in 2015 than in 2000, according to a new report by the Economic Innovation Group. In Kansas, almost 29 percent of zip codes had fewer jobs and businesses in 2015 compared to 2000, which was a two-decade period of massive cheap-labor immigration.
Because of the successful cheap-labor strategy, wages for men have remained flat since 1973, and a large percentage of the nation's annual income has shifted to investors and away from employees.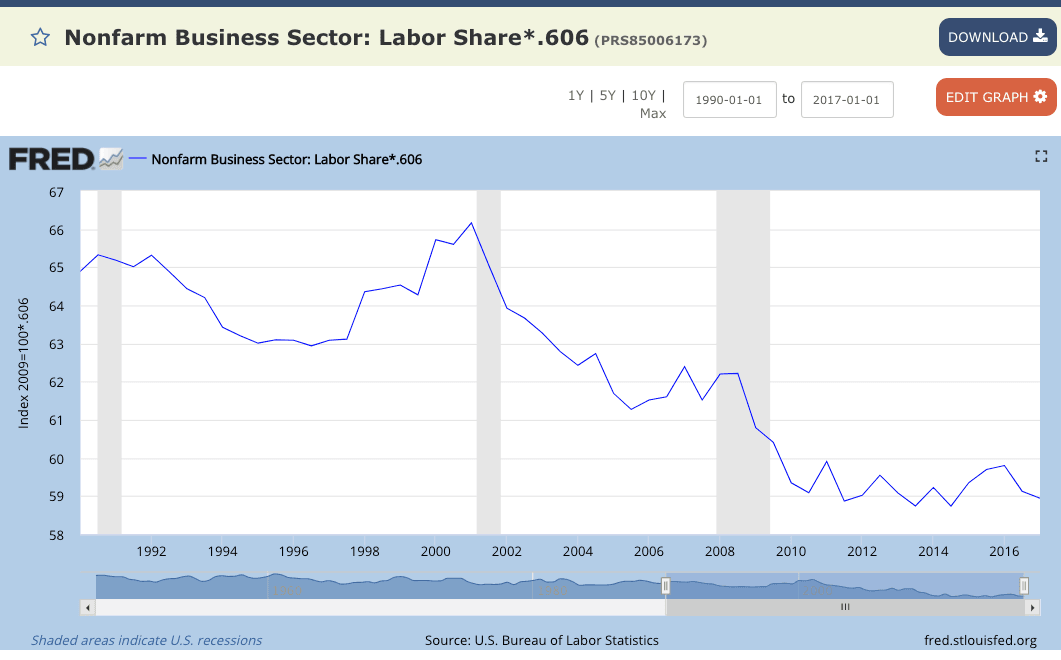 Read the Washington Post article here.