TUCSON, Arizona–It's official: drug smugglers and illegal immigrants have better access to a taxpayer-funded military facility in Arizona than law enforcement agencies and the American public.
The Barry M. Goldwater Range (BMGR) is an enormous training facility in southwest Arizona that encompasses 1.7 million acres, and where pilots practice air-to-air maneuvers in two air-to-air ranges and engage simulated battlefield targets at nine air-to-ground ranges. It's the third-largest military facility in the US, and is considered "a critical military asset for our nation's defense and air power readiness." However, due to its isolation and proximity to the border with Mexico, it is also a major attraction for drug traffickers and human smugglers.
One would think that the BMGR would have a sizeable military security force to combat any incursions into sensitive–and dangerous–"hot" areas of the Range during operations. However, security is contracted out to a private company, and it's a difficult prospect to come across anyone who would be interested in stopping a trespasser. Worse yet, access to the Range can be very limited for US Border Patrol agents and local agencies who need to respond to a smuggling incident.
Derek Hernandez, Western Regional Vice President for the National Border Patrol Council, told Breitbart Texas that Department of Defense (DoD) officials at the BMGR have been very helpful to Border Patrol agents working in the area, and have even assisted with some apprehensions of trespassers. However, he acknowledged that agents have to get permission from the base to enter the Range, and while the answer is never an absolute no and each request is evaluated on a case-by-case basis, agents do get turned away.
Going after drug smugglers and illegal immigrants "is hard enough as it is," said Hernandez. "Agents are sometimes hours away from the Range entrance, and it can take time to get the clearance. Let's just say it doesn't make our job any easier." Hernandez did say that agents maintain radio communication with Range officials, and when turned away, agents just go around the property and start looking for evidence of passage where smugglers or immigrants were likely to emerge on the other side.
The BMGR lies in the middle of the Border Patrol's Yuma sector, which has a reputation for being one of the most tightly secured parts of our southwest border–due in part to the fact that much of the area is sparsely populated and the terrain is very harsh, and in part because the border fence has acted as a large deterrent to both foot and vehicle traffic since its installation several years ago. While illegal immigrant apprehensions have see-sawed between 2009-2013, ranging from 5,833 in FY 2011 to 7,116 in FY 2010, illegal drug apprehensions have increased each year since 2011. That fiscal year, Border Patrol agents seized approximately 31,400 pounds of narcotics. In FY 2012, that amount inched up to about 32,100 pounds, then shot up to 53,700 pounds in FY 2013, according to CBP seizure data.
Data regarding what proportion of those seizures and apprehensions occurred on or near the BMGR is not publicly available, but concern over the Range's accessibility to smugglers and illegal immigrants is not new. In August 2013, the Washington Times described the BMGR as one of several border areas that comprised "the soft underbelly of border security, where the desire to protect the national boundary competes with other priorities such as environmental conservation." Furthermore, the Times story indicated "the smuggling gangs have established lookout posts on mountaintops in the region to advise their bosses when aircraft enter the range and when they depart," and that "there are no training flights on weekends, meaning the range is entirely open from about 10 p.m. Friday until 8 a.m. Monday."
Local residents told the Times that over 50 active smuggling trails can be found passing through the range, utilizing two-track roads and washes. Smugglers use trails in nearby Black Gap and Lookout Mountain to evade the Border Patrol checkpoint on State Route 85, turning northeast through the BMGR then heading for Interstate 8. Area residents also said to the Times that an abandoned railroad line — the Tucson Cornelia and Gila Bend Railroad — lies just east of State Route 85, and smugglers use the elevated berm to conceal their movement from the Border Patrol and highway traffic.
In 2011, local law enforcement officials discovered a portable folding ramp attached to a pickup truck that smugglers were setting up to allow vehicles to drive over the border fence. The ramp was found on BMGR property after Border Patrol agents chased down a vehicle that had recently used the ramp to transport over 1,000 pounds of marijuana into the Range. Gaston Loaiza, the federal preventative police commander, told the Yuma Sun, "We believe that the ramp could have been used previously, but it is a sign that there is a lot of drug smuggling activity in that area." 
Alfonso Zavala, spokesman for the Yuma County Sheriff's Office, told Breitbart Texas that drug and human smugglers are using the Range for their illicit activities, but most of the traffic occurs on the east side of the BMGR in Maricopa County. Personally, he had not seen any recent huge surges in traffic on the Yuma County side of the Range. Zavala said the YCSO had a great working relationship with other agencies in the area, and their Search and Rescue team regularly conducts area patrols during the summer months due to the increased foot traffic and danger of exposure.
The Maricopa County Sheriff's office, however, has had a different experience. Spokesperson Lisa Allen told Breitbart Texas that deputies see large-scale drug trafficking activities utilizing routes that cross the BMGR. "During the last three years we have seen a slight decline in the human trafficking utilizing this area, but drug trafficking activity has remained steady," Allen said. "Changes in tactics involve the prolific use of ATVs used to transport illegal drugs, when in years past, stolen 4×4 vehicles and back packers were the norm," she continued. Allen also indicated that backpackers are walking farther north than Interstate 8 for pick up and transport into the Phoenix metropolitan area. Deputies are also noting that larger backpacker groups break down into smaller groups shortly after crossing the BMGR and before approaching their pre-determined pickup sites.
The photos below were taken in the area by photographer Harry Hughes: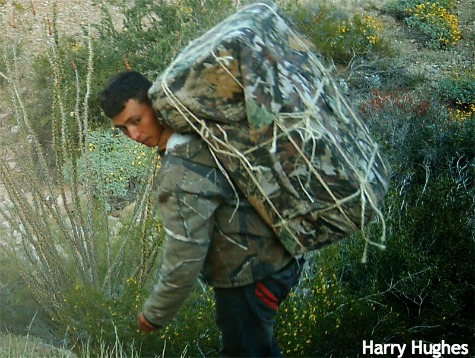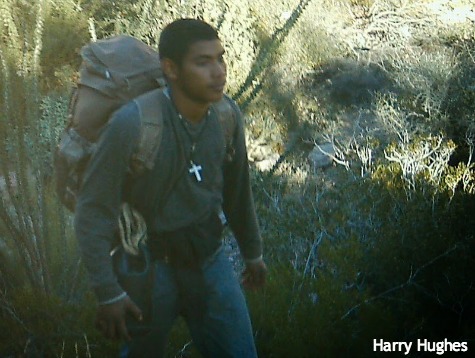 The federal government acknowledged this problem back in 2005, well before the border fence was built in Yuma sector. A 2005 report by a Congressionally-appointed task force "examining environmental and readiness factors on the Barry M. Goldwater Range" indicated, "The Task Force has found that illegal entrants and associated law enforcement activities currently have a significant negative effect on both the military training mission and endangered species." However, the report also said, "The Task Force acknowledges that border issues are beyond its specified scope and recognizes they are not simply a Goldwater Range or even an Arizona problem… Range closure periods due to migrant or drug trafficking incursion can last from 30 minutes to several hours, depending on the scenario, and can occur at any time of the day or year." 
Harry Hughes is a local resident who has been privately patrolling the BMGR area for four years. Hughes, like most of the general public, can access certain approved areas of the Range by going through a standard process directed by Luke Air Force Base. He has helped install several outdoor trail cameras near the Range in the last two years, and has personally witnessed evidence of considerable human traffic on the BMGR itself: backpacks, pieces of burlap, empty water bottles, foodstuffs, and tires. Hughes told Breitbart Texas that the traffic slows down in the hot summer months, but picks right back up in the fall.
The images and video these trail cameras have recorded speak for themselves–backpackers carrying large loads of marijuana and walking in single file on various smuggling trails. Hughes told Breitbart Texas, "We'd rather not encounter any people" because it can cause problems if he finds armed smugglers, but does offer help to any illegal immigrants who are in trouble. This is a concern because Hughes said it was three years before he saw any sort of law enforcement presence on the Range. In 2011, his vehicle got stuck in some sand and for three days–despite helicopters and drones flying overhead–no one made contact with him before a friend rescued him. "Anyone who wants to evade Border Patrol out here isn't going to have any trouble," said Hughes.
Or private security, for that matter. Although the Range is a military facility, soldiers are not responsible for maintaining security across the property's 1.7 million acres. In 2009, the 56th Contracting Squadron at nearby Luke Air Force Base awarded a $56 million contract to Chiulista Services, Inc. for the "operation and maintenance of Gila Bend Air Force Auxiliary Field (AFAF) and the Barry M. Goldwater Range (BMGR) for the period of 1 Oct 09 through 30 Sep 10 with four one-year options." This contract included a very long laundry list of services that Chiulista was required to perform, ranging from civil engineering support, air traffic control, range maintenance, and environmental monitoring, to name a few. Security services were only one small part of this contract, for which Chiulista was granted all four one-year options.
It should come as no surprise that Chiulista–a subsidiary of Yulista Holding, LLC, which is a subsidiary of Calista Corporation–is running the show at the BMGR. Its parent company, Calista Corp., is one of roughly 200 Alaska Native Corporations (ANCs) that were formed after Congress passed the Alaska Native Claims Settlement Act of 1971. According to media outlet ProPublica, in 1986, "Congress passed legislation that allowed ANCs to participate in the Small Business Administration's disadvantaged business program, known as the 8(a) program, which sets aside federal contracts for minority-owned or other disadvantaged companies. With strong advocacy from Alaska Sen. Ted Stevens, Congress later extended to ANCs additional special 8(a) benefits, such as the ability to win no-bid contracts for any amount and to own multiple subsidiaries in the program. Other participants do not have those advantages."
Calista and its biggest competitor, Chenega Corporation, are known to almost everyone in the federal contracting business. According to Alaska Business Monthly, Chenega's annual revenue grew from a mere $13 million in 2000 to $1.1 billion by 2009. Calista's growth has been more modest during the same time period, growing from $14 million to $200 million annually, according to the ANC's annual reports. Few ANCs are required to report financial data. According to ProPublica, Chenega and Calista have received nearly all their contracting revenue through no-bid contracts or in competitions restricted to small minority firms.
Looking through the requirements in the BMGR contract, there are only a handful of companies in the US that can meet all of them. The common solution for large government contractors would be to subcontract out different parts of the contract to other companies, but Chiulista kept all the work in-house–an impressive accomplishment. A call to the 56th Contracting Squadron on July 8 revealed that the contract will not be broken up into individual or smaller requirements when it comes up for renewal in September 2014.
The problem remains that Chiulista's contracted security agents are failing to stem the flow of drug smugglers and illegal immigrants across Department of Defense property. Inside sources at Luke AFB have told Breitbart Texas that base leadership is extremely unhappy with the security services being provided by Chiulista, but base contracting officials have made it clear that they will not be separating out the security portion of the operations and maintenance contract for the BMGR.
When contacted for comments on this story, Chiulista's communications manager only referred Breitbart Texas to the Luke Air Force Base public affairs office and did not respond to additional requests for a statement from the company. Chas Buchanan, Director of the 56th Range Management Office, offered limited comments in conjunction with the base spokesman. Buchanan declined to comment on smuggling activity on the Range, referring Breitbart Texas to the US Border Patrol. He also declined to comment on the BMGR's relationship with Chiulista, citing the fact the contract was up for renewal and didn't want to interfere with that process. Buchanan did say his office has a solid relationship with federal and local law enforcement agencies, and when a smuggling incident is detected on the Range, contract security officers are the ones who respond and contact the appropriate local agency.
The fact remains that the Barry M. Goldwater Range is a US military facility that is supposed to be one of the most secure areas in the country, yet drug traffickers and illegal immigrants traverse the property regularly with relative impunity. Worse yet, security for the Range isn't even a military responsibility; it has been contracted out to a company that has failed to identify–let alone slow down–the flow of illicit goods and people in the five years since they started providing services. The BMGR can now easily be added to a growing list of taxpayer-funded federal lands where violent drug smugglers and illegal immigrants have more access than the American public.
Sylvia Longmire is a border security expert and Contributing Editor for Breitbart Texas. You can read more about Mexico's drug cartels and their illicit activities in her new book, Border Insecurity: Why Big Money, Fences, and Drones Aren't Making Us Safer.