JACKSON, Mississippi — Although a super PAC supporting Sen. Thad Cochran (R-MS) issued an attack ad over Common Core, the controversial federal education standards, Cochran himself vouched for Mississippi's implementation of Common Core in a 2010 letter to President Obama's education secretary.
In the May 27, 2010 letter obtained by Breitbart News, Cochran wrote to Department of Education Sec. Arne Duncan that he wanted to "express my support for the Mississippi Department of Education's application for the Race to the Top Fund."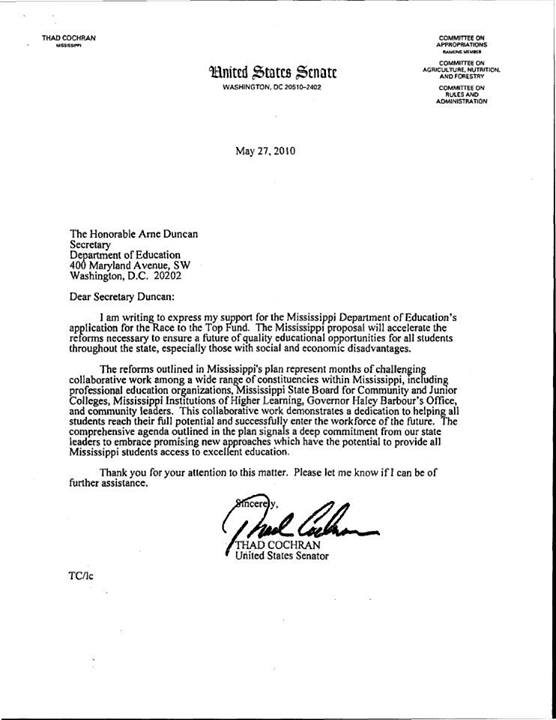 The state's application for the funds says Mississippi will adopt Common Core standards.
"MS is ready to move the bar higher by further increasing the intellectual rigor demanded of MS students. As a result, MS will adopt the CCSSO and NGA Common Core State Standards," the application says.
Cochran, who is in a runoff election after narrowly losing the initial primary vote to conservative primary challenger state Sen. Chris McDaniel Tuesday, signed onto an effort spearheaded by Sen. Lindsey Graham (R-SC) earlier this year calling on the federal government not to use economic or regulatory means to entice states into backing Common Core. Conservatives like Sens. Tim Scott (R-SC), Mike Lee (R-UT) and Ted Cruz (R-TX) also signed on to the push.
"States and local educational agencies should maintain the right and responsibility of determining educational curricula, programs of instruction, and assessments for elementary and secondary education," the resolution Cochran and the other senators signed reads. "The Federal Government should not incentivize the adoption of common education standards or the creation of a national assessment to align with such standards; and no application process for any Federal grant funds, or for waivers issued by the Secretary under the authority of section 9401 of the Elementary and Secondary Education Act of 1965 (20 U.S.C. 7861), that occurs after the date of adoption of this resolution should award any additional points, or provide any preference, for the adoption of the Common Core State Standards or any other national common education standards."
While Cochran says that now, just a few short years ago–at the beginning of President Obama's administration–he vouched for Mississippi's Common Core implementation.
In the May 27, 2010, letter Cochran wrote to Obama's Education Secretary Arne Duncan, Cochran wrote that he wanted to "express my support for the Mississippi Department of Education's application for the Race to the Top Fund."
"The Mississippi proposal will accelerate the reforms necessary to ensure a future of quality educational opportunities for all students throughout the state, especially those with social and economic disadvantages," Cochran wrote to Duncan.
"The reforms outlined in Mississippi's plan represents months of challenging collaborative work among a wide range of constituencies within Mississippi, including professional education organizations, Mississippi State Board for Community and Junior Colleges, Mississippi Institutions of Higher Learning, Governor Haley Barbour's Office and community leaders," Cochran continued. "This collaborative work demonstrates a dedication to helping all students reach their full potential and successfully enter the workforce of the future. The comprehensive agenda outlined in the plan signals a deep commitment from our state leaders to embrace promising new approaches which have the potential to provide all Mississippi students access to excellent education."
The proposal Cochran referenced multiple times in this letter specifically clarifies that part of Mississippi's "future reform" for education is the adoption of Common Core. In a paragraph detailing Mississippi's plans for the Race to the Top funding in the application filed with the Department of Education in Washington–an application that Cochran's letter referenced and accompanied, according to a 2010 WLOX news report–the Mississippi plan includes Common Core.
"MS is ready to move the bar higher by further increasing the intellectual rigor demanded of MS students," page 16 of that plan, as published by Duncan's Department of Education, reads. "As a result, MS will adopt the CCSSO and NGA Common Core State Standards (CCSS) and aligned assessments by participating in Partnership for Assessment of Readiness for College and Career (PARCC). In fact, to move the bar even higher and to further increase the rigor, MS will partner with the National Center for Education and the Economy (NCEE) State Consortium for Board Examination Systems along with eight other states to use the world's best instructional systems and examinations to dramatically increase the number of students who leave high school ready to succeed in college."
The Home School Legal Defense Association (HSLDA), which opposes Common Core, notes that the funds like the ones Cochran advocated for have been used by the Obama administration to entice states into adopting Common Core standards. "In March 2009, the Department of Education revealed its backdoor method of gaining federal control of state educational policy when Secretary of Education Arne Duncan announced the Race to the Top (RTTT) program–an opportunity for states to compete for a share of $4.35 billion reserved for state education incentives by the American Recovery and Restoration Act," the HSLDA writes on its website explaining its opposition to Common Core. "To even be eligible for funding, states had to promise that they would fully adopt a set of common college- and career-ready standards supplemented with only 15% of their own standards."
"Chris McDaniel voted to fund Common Core twice," Cochran spokesman Jordan Russell said in an email when asked about this 2010 Cochran letter. "Sen. Cochran believes education policy should be made at state and local level."
McDaniel has touted his opposition to Common Core on the campaign trail, even as a super PAC supporting Cochran has accused him in television ads of supporting it.
"This type of issue is right at the heart of what we conservatives believe in and that is local control over these issues," McDaniel said at an event in Laurel, Mississippi, in February. "I think there are others out there, like Ted Cruz, and Mike Lee and Rand Paul who believe just as we believe. We're going to do the very best we can to get rid of Common Core once and for all."
A super PAC supporting Cochran ran television ads in February that claimed McDaniel had been "voting to fund" Common Core in the Mississippi State Senate. An article from FactCheck.org, however, found that Cochran's campaign's claims were "distortions" because the McDaniel votes the fine print referenced were wider annual education appropriations bills that included Common Core funding.
"We take no position on the merits of the Common Core standards," FactCheck.org wrote in February. "We merely point out that the TV ad from the Barbour-backed group overstates its case by omission, not commission. Yes, McDaniel voted for Common Core funding, but it was a small amount in massive bills to fund the state's public schools that were passed without objection. And the Common Core standards had the early support of the former governor [Haley Barbour] who is reportedly raising money to help underwrite the ad that accuses McDaniel of being deficient in his opposition to the Common Core standards."