Dr. Ben Carson stole the show at the Georgia Association of Republican County Chairmen.
The GOP presidential candidate received more than 76 percent of the vote in the "2015 State Convention Straw Poll."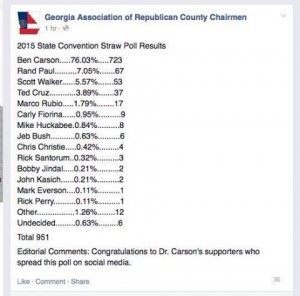 Sen. Rand Paul (R-KY) came in second with more than 7 percent of the vote, and Gov. Scott Walker (R-WI) came in third with just under 6 percent.
Former Texas Gov. Rick Perry came in last with well under 1 percent of the vote.
The poll results were posted to Facebook Monday with the editorial comment, "Congratulations to Dr. Carson's supporters who spread this poll on social media."
Breitbart News exclusively reported that Carson's fundraising sky rocketed since his formal presidential announcement in early May.
According to Carson's spokesman Doug Watts, Carson raised at least $5.2 million since launching his exploratory committee with ""predominantly in small donations," and just $52 being the average, Breitbart News reported.