The White House press briefing was interrupted today as Secret Service agents evacuated the briefing room in response to a bomb threat shortly after 2:00 p.m.
White House press secretary Josh Earnest retreated back into the White House staff offices in the West Wing while reporters were told to exit the briefing room.
Cameramen abandoned their video cameras, some of them still running, as they were escorted out of the White House to the Executive Office Building next door. As reporters left, Secret Service agents with bomb sniffing dogs entered the building.
Reporters spent their time sending out updates with their smart phones or filing pieces on the evacuation as some television reporters called into their networks.
By 2:35, reporters were given the "all clear" and made their way back into the briefing room, only to find some of the cameras outside pointed to the ground. Other camera operator sources said that their cameras inside the briefing room were covered by agents after they entered.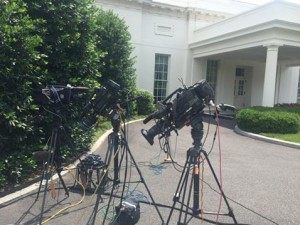 After returning to the podium at 2:45 p.m., White House Press Secretary Josh Earnest tried to return to the exact spot where he left off, but reporters quickly demanded answers about the threat that caused the evacuation.
Earnest told reporters that the press area was evacuated due to "a telephonic bomb threat" called into the Capitol police, but did not know whether it was related to the threats that lead to the evacuation of some Senate buildings on Capitol Hill.
President Obama was at the White House at the time of the briefing, but according to Earnest he was not moved. Earnest told reporters that he returned to his office while Secret Service officials scanned the room and did not "take cover"
When asked who handled the cameras, Earnest replied that he didn't know as he was evacuated at the same time as they were.
After the briefing, video emerged of a White House staffer covering one of the cameras once reporters had left.