Data from the Centers for Disease Control and Prevention's Behavioral Risk Factor Surveillance System reveals some stark disparities of obesity rates among different ethnic groups in the U.S.
CDC data show 33 states with a black obesity rate of at least 35 percent, while only one state shows an obesity rate of at least 35 percent for white Americans.
"It is the largest epidemic of a chronic disease that we've ever seen in human history," said Dr. Donald Lloyd-Jones, chair of the department of preventive medicine at the Northwestern University Feinberg School of Medicine, according to NPR.
Alyson Hurt of NPR organized the CDC data into a fascinating chart: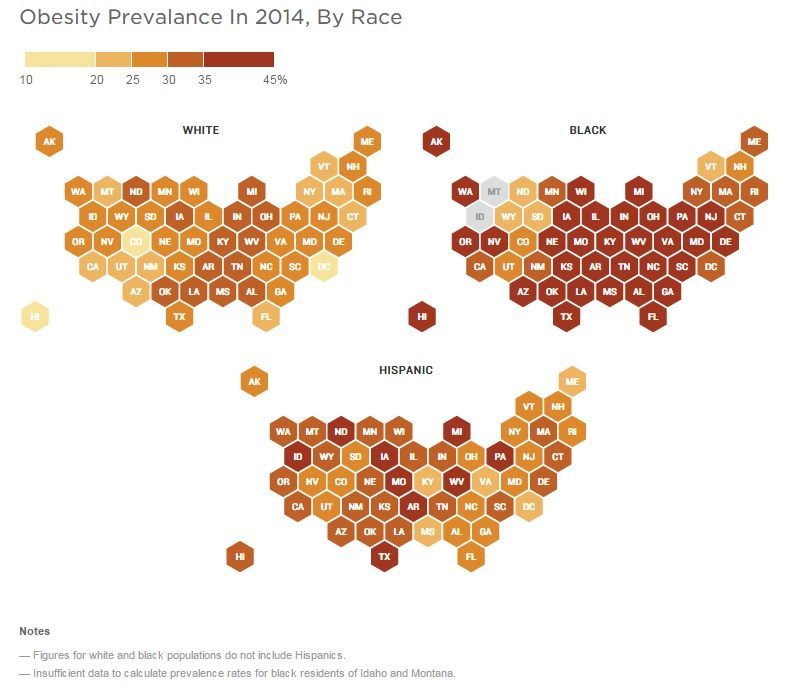 The lowest obesity rate, 21.3 percent, was found in Colorado. Arkansas is the most obese state in America with 35.9 percent of its population suffering from the chronic disease.
The CDC's obesity findings fly in the face of other recent government data that suggests that there is a persistent problem of hunger in America.
About 1 in 6 Americans face hunger according to a 2014 USDA Economic Research Service report. According to that USDA report, about 49 million Americans struggle to put food on the table. Meanwhile, more than 1 in 3 black and Hispanic children face hunger, according to a 2012 USDA report on Household Food Security in the United States.
The Centers for Disease Control maintains that the African-American obesity rate has historically outpaced that of Hispanics and white Americans.