After participating in a rally to defend the University of Missouri's statue of Thomas Jefferson from liberal vandalism, student Jasmine Wells was smeared as an "Uncle Tom" for supporting the Founding Father.
Wells' activism came after liberal students littered the campus' statue of Jefferson with post-it notes labeling him as a "rapist," "racist," "sexist," and more just last week.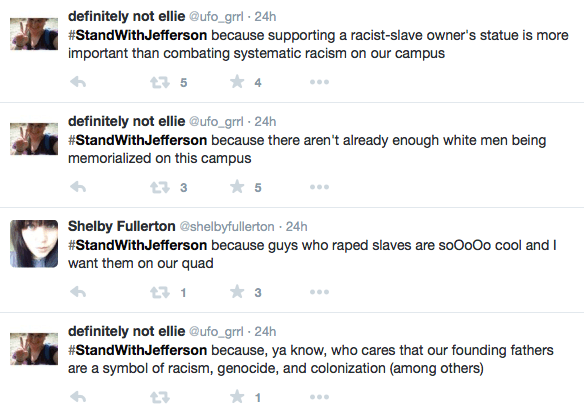 Upset by their peers' disrespect for the third president, campus conservatives contacted Young America's Foundation, eager for assistance in pushing back against the vandalism. Many of the students had just attended a YAF conference and sought the activism experience the Foundation could bring to their efforts.

Rather than simply writing about their campus controversy, per the advice of YAF, the students decided to take action. They draped the Jefferson statue in an American flag, formed a human chain around it, and drafted a petition.
The conservatives' petition earned more signatures in 45 minutes than the anti-Jefferson petition which had been circulated for over a month.
When news of the rally broke on social media, one liberal student took to Twitter and targeted Jasmine Wells, who is African-American, for having "the nerve" to even be in the picture posted by the conservative group or sign the petition. The student also labeled Wells an "Uncle Tom" for participating in the event.
As of Wednesday morning, the student, who went by "Chocolate Drop" on Twitter and included #BLACKLIVESMATTER in her bio, appears to have deleted her account.
In an email, Wells told YAF, "[The negative reaction on social media] was very hurtful to me and I felt judged." She continued, "For a movement that places a huge emphasis on equality and the end of racism on campus, many of the responses to my involvement in the #StandWithJefferson campaign were extremely racist."
"I am not a black woman or a white woman, I am an American woman. My political affiliation should not be determined by my race. And although I only responded to one user, it definitely made an impact," Wells said.
Ironically, this month the University of Missouri announced it would be implementing mandatory racism training for all incoming students after demands from campus liberals who were outraged by racial incidents involving the use of slurs earlier this year.
Will the liberal student's choice to smear her black classmate as an "Uncle Tom" be treated the same way by the administration and black student groups? Or will it be ignored because Jasmine is conservative?
Whether Missouri will uphold the same double standard promoted by liberal institutions across the country remains to be seen.
But by the standard the school has set for its own students, Well's attacker should receive mandatory training on how to conduct herself with a real sense of tolerance, not simply the one advocated by the Left.
In a statement to YAF, a Mizzou spokesperson remarked, "We can't comment on discipline for individual students due to federal privacy laws."
Wells commented that she has "yet to hear any response from the university on the issue."