A photo of a baby in a State Trooper's hat has now gone viral.
The baby girl's mother, Trooper Jaimie Jursevics of the Colorado State Patrol, was killed after being hit by a vehicle while investigating an accident last week.
Jursevics was rushed to a hospital after being hit, but she later passed away from the injuries sustained in the incident.
Invesigators determined the driver of the vehicle that struck her was driving drunk.
The Fremont County Sheriff's Office posted the photo of Jursevics daughter in a State Trooper's hit with the caption saying "she will grow up without her mother" after someone had a "few beers" and drove home.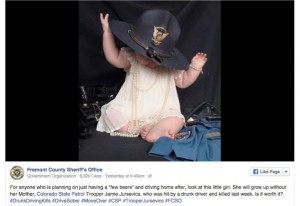 (h/t Fox 2 Detroit)