A Creighton University literature professor reportedly gave his students a final exam with a question that attacked GOP frontrunner Donald Trump as – among other things – the "Anti-Christ."
As Turning Point USA's Hypeline reports, Dr. Fidel Fajardo-Acosta, who teaches World Literature I: Antiquity to the Renaissance (English 220) at the Jesuit university in Omaha, Nebraska, posed the following question to students on the final exam, offering five bonus points for their response: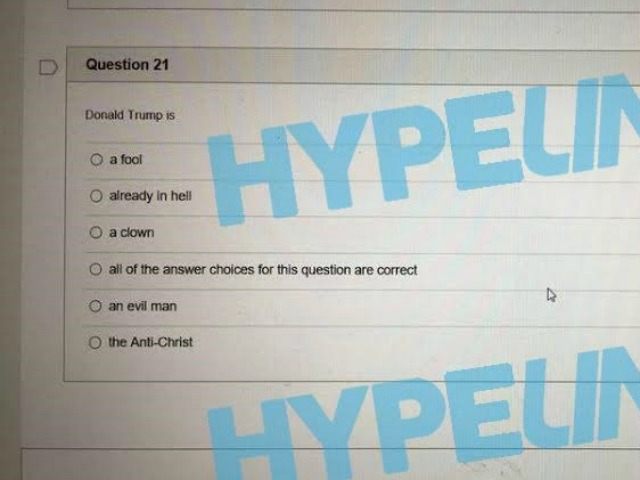 Donald Trump is:

a) a fool

b) already in hell

c) a clown

d) all of the answer choices for this question are correct

e) an evil man

f) the Anti-Christ
The course is part of Creighton's Magis CCAS Core Curriculum, a group of 18 courses that is required for graduation.
"Each component has a justification that is rooted in the Catholic and Jesuit intellectual tradition," states the curriculum's website. "In addition to the traditional areas of study – philosophy, theology, and the other liberal arts and sciences – the curriculum includes two courses where students encounter and will be asked to grapple intellectually with questions of diversity, social justice, and values."
The master syllabus for World Literature I provides the following description on the university's website:
A study of representative works of world literature from Antiquity, the Middle Ages, and the Renaissance. The course emphasizes the study and consideration of the literary, cultural, and human significance of selected great works of the Western and non-Western literary traditions. An important goal of the class is to promote an understanding of the works in their cultural/historical contexts and of the enduring human values which unite the different literary traditions. The course's pedagogy gives special attention to critical thinking and writing within a framework of cultural diversity as well as comparative and interdisciplinary analysis.
On the website ratemyprofessors.com, Fajardo-Acosta received an average grade of A-. Positive ratings described him as an "impressive professor" who "makes students think for themselves and pushes them to see different perspectives," and "engaging."
Other ratings include several that indicate students can get a B just for showing up for the class, an A with some extra work. His grading "on a curve" is mentioned in the ratings as well.
However, one student observed Fajardo-Acosta "only teaches his opinion, not open to discussion even though he says it is…cynical, makes blanket statements and generalizations." Another student writes, "Do not take if you love capitalism."
Yet another student notes, "He thinks he's god and really seems to impress himself," and still another writes, "Doesn't use evidence to support his theories. Doesn't take into account any other opinions but his own….Personally attacks students if they question his opinions."
Fajardo-Acosta did not immediately respond to Breitbart News' request for comment.