The repatriation of illegal migrants has crashed down to one-quarter the level seen in 2011, according to data released by President Barack Obama's department of Homeland Security.
In 2011, roughly 230,000 migrants among the 12 million living in the United States were sent home — but only about 75,000 migrants have been sent home in 2015, according to federal data provided by the Center for Immigration Studies. 
That dropped the annual chance for migrants of being sent home from 1 in 53 in 2011, down to 1 in 160 in 2015.
In 2011, 150,000 migrants convicted of crimes in the United States were sent home. But that number fell to 60,000 in 2015, as Obama directed his agency officials to release more foreign criminals back into Americans' neighborhoods and streets.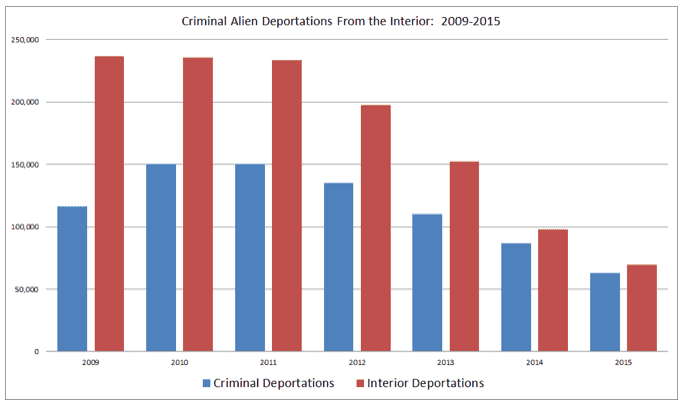 "These abysmal deportation numbers are the result of deliberate policy choices made by President Obama to dismantle immigration enforcement, all the while telling Congress and the public that he was accomplishing 'record' deportations," said Jessica Vaughan, the director of policy studies at the CIS, which supports lower levels of immigration. 
"This willful neglect has imposed enormous costs on American communities," she said. "In addition to the distorted labor markets and higher tax bills for social welfare benefits that result from uncontrolled illegal immigration, the Obama administration's anti-enforcement policies represent a threat to public safety from criminal aliens that ICE officers are told to release instead of detain and remove. The administration's mandate that ICE focus only on the 'worst of the worst' convicted criminal aliens means that too many of 'the worst' deportable criminal aliens are still at large in our communities."
Even as the numbers drop, Obama and his deputies have changed the accounting rules to helps advocates and allied journalists claim he is deporting a record number of migrants.
"The number of people deported at or near the border [just after crossing the border] has gone up — primarily as a result of changing who gets counted in the U.S. Immigration and Customs Enforcement agency's deportation statistics," according to an April 2014 article in the Los Angeles Times.