TALLAHASSEE, FL — On Tuesday night before a crowd of several thousand at the Tallahassee Car Museum, Republican presidential nominee Donald Trump wrapped up his five-stop Florida swing, where according to recent polling he is trailing Democratic presidential nominee Hillary Clinton by a very narrow margin.
Despite some polls suggesting otherwise, Trump insisted he would win the state of Florida on Election Day.
"In 14 days we are going to win the state of Florida and we are going to win back the White House," he declared. "Early voting in Florida is underway so make sure you get out and vote. We have a thing going on that they have never seen before. It is a movement. They have never seen anything like it before. We are going to win and we are going to bring back a lot of good things including common sense to the White House."
Trump, wearing a camoflauge "Make America Great Again" ballcap, made his usual stump speech, which included the usual pledges on job creation, a border wall, health care and trade.
"We have the power in our hands," he said. "In just 14 days – 14 days? Can you believe this? I started, it was a year and a half. now we're down to 14 days. We had unbelievably tough, nasty primaries. We're proud to say they were the most difficult and toughest primaries  they say in the history of politics. And now we have a nasty, nasty election. But we have the facts on our side. We're going to bring back jobs. We're going to get rid of ObamaCare."
Big crowd (and big skies) for Trump in Tallahassee pic.twitter.com/oAZMSsit5Y

— Nick Corasaniti (@NYTnickc) October 25, 2016
One of the highlights of the event was Trump's response to Vice President Joe Biden, who in an interview with MSNBC's Chris Matthews earlier in the day said he would take Trump "behind the gym."
"I'd love that," Trump said. "I'd love that. Mr. Tough Guy — you know, he's Mr. Tough Guy. You know when he's Mr. Tough Guy? When he's standing behind a microphone by himself," Trump said.
"Some things in life you could really love doing," he added.
Other diginitaries participating in the rally included Florida Attorney General Pam Bondi and outgoing Rep. Jeff Miller (R-FL), who both made pitches for the GOP nominee.
Attendance for the event might have been a bit higher, but thousands were turned away from the rally when the Leon County Sheriff Department blocked access.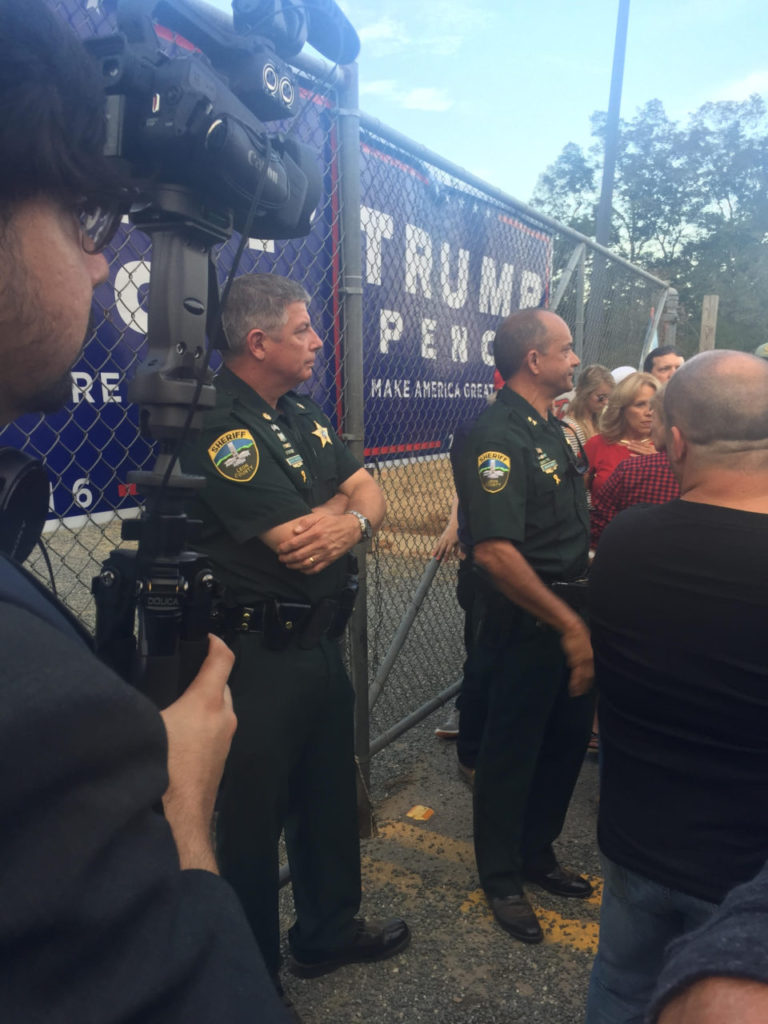 A Leon County sheriff deputy told the crowd they would not be let in to the event and said it was at the behest of the Trump campaign to not allow people entrance at a certain point in time before the rally. He described the campaign's event planning as "almost admirable," but advised those waiting outside the venue to go find another place to watch it on TV.
In the prior four presidential elections, Leon County, home of Tallahassee, has gone for the Democratic candidate and had historically elected more Democrats to office than most of the counties in northern Florida. Outside of the event, there were a handful of anti-Trump protesters.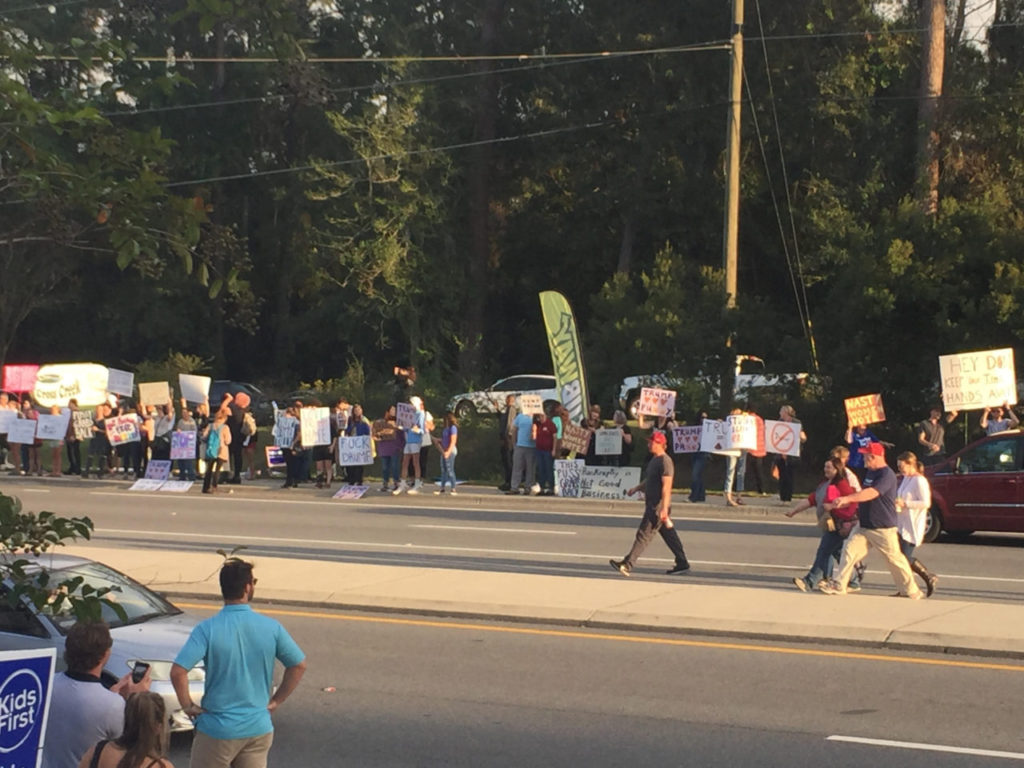 On the day of Trump's visit to Florida's capital city, the Tallahassee Democrat, the city's local newspaper, featured an editorial on the paper's front page urging to talk about the "nobility of journalism" and to "show humility."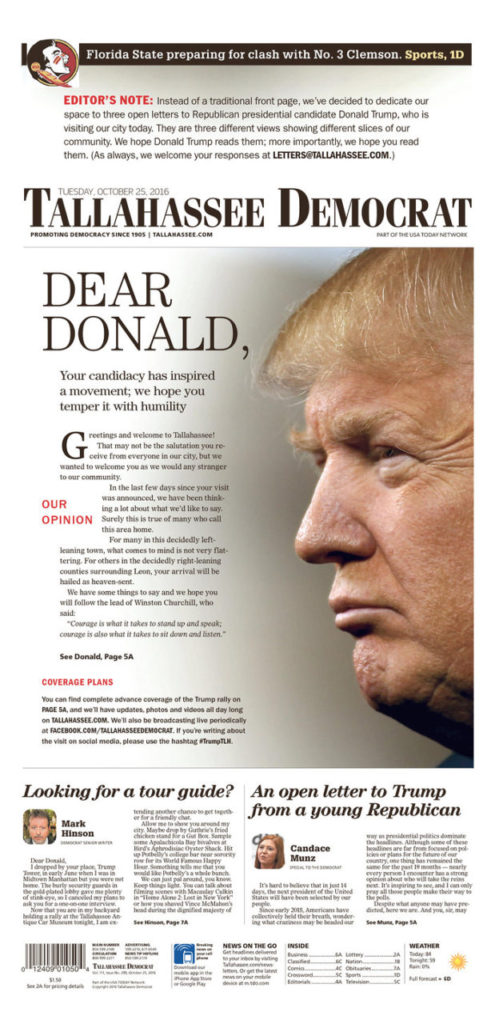 For many in this decidedly left-leaning town, what comes to mind is not very flattering. For others in the decidedly right-leaning counties surrounding Leon, your arrival will be hailed as heaven-sent.
We have some things to say and we hope you will follow the lead of Winston Churchill, who said:

"Courage is what it takes to stand up and speak; courage is also what it takes to sit down and listen."

We want to talk to you about the nobility of both journalism and humility.
On Wednesday, after a stop in Washington, D.C., Trump hits the campaign trail with two stops in North Carolina.
Follow Jeff Poor on Twitter @jeff_poor