MSNBC anchor Stephanie Ruhle spent 20 minutes on Oct. 26 throwing ethical accusations at Donald Trump's stand-in, but she ignored her own ethical conflicts and her financial interests in the outcome of the 2016 presidential race.
These conflicts include Ruhle's professional ties to Wall Street, whose financial leaders ardently oppose Donald Trump's populist policies, plus her financial interest in the hedge fund sector, which faces increased taxation if Trump is elected to the White House.
Her hedge fund husband Andy Hubbard remained offscreen and unmentioned as Ruhle pelted Rudy Giuliani with hostile questions about polls, healthcare policy, election rigging, endorsements, charitable spending, women voters, and eventually a question about supposed "hate and racism" by Trump's supporters and aides.
Those charges of unethical conduct leveled at Trump stand or fall based on the evidence — but Ruhle's own standing as an honest broker is tainted because her husband works for a hedge fund firm and previously was part of a banking conglomerate that was fined for deceptive treatment of clients during the housing bubble.
Giuliani successfully caught and returned each claim and charge from Ruhle, gradually causing her to concede or change her subject. "It is a fair point … that is not good news [for Clinton] … I'm not going to argue, that's some bad news there [for Clinton]… okay… you know better than me," she said as Giuliani volleyed his answers back at her.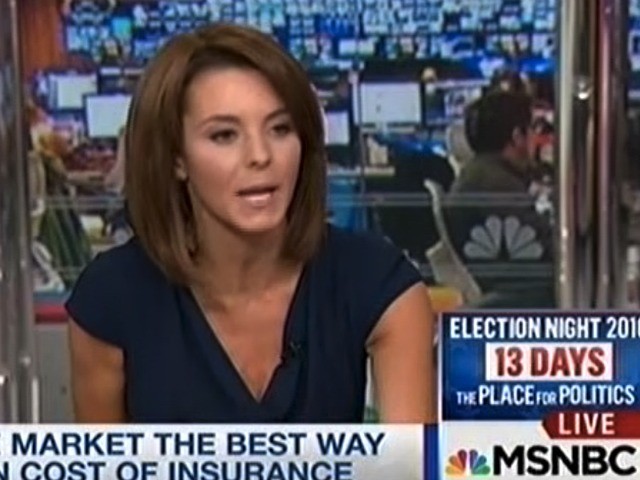 After 14 minutes of throw and return, Ruhle brought up vague claims of "racism" and "hate," without offering evidence to support her scattershot questions. "Before we go, I just want to ask you one thing. Clearly we've got an angry country… I want to talk about the hate that has been incited in this election … I've also never seen the hate and the racism out of so many people," she said.
Giuliani countered, saying, "there's no racism … to say that Donald Trump is a racist is outrageous, and to call anybody a racist is outrageous." He quickly turned the tables, saying "I think your [MSNBC] station is completely left wing and totally anti-Trump and totally anti-Republican … We don't think we get anywhere fair treatment on this station."
Giuliani's charges put Ruhle on the defensive, causing her to drop her suggestions that Trump's campaign is promoting racism amid its repeated calls for pro-American policies that benefit all Americans, regardless of color.
Throughout the 20-minute interview, Ruhle hid her own financial and professional interests in a victory for Hillary Clinton. 
Ruhle herself has close ties to major investors and employers, including Michael Bloomberg, who is a sharp critic of Trump's populist low-immigration/high-wage policies. Prior to her anchor position at MSNBC, Bloomberg picked Ruhle to be managing editor and news anchor for his television business, to be editor-at-large for his news operation, and to be co-host at for his TV show, Bloomberg GO.
In July, Bloomberg scalded Trump at the Democratic convention.
Trump says he'll punish manufacturers that move to Mexico or China, but the clothes he sells are made overseas in low-wage factories," Bloomberg said. "He says he wants to put Americans back to work, but he games the U.S. visa system so he can hire temporary foreign workers at low wages. He says he wants to deport 11 million undocumented people, but he seems to have no problem in hiring them.
Also, Ruhle's husband works as a "managing director" at UBS O'Connor, where he is a "portfolio manager in credit," according to his LinkedIn page.  Hubbard's branch of UBS "is a multi-strategy hedge fund manager within UBS Asset Management," said the web page. 
We combine our strategies with the goal of creating a diverse stream of returns relatively uncorrelated to major asset classes

By shifting capital and risk dynamically across strategies we look to exploit investment opportunity sets that we see in the market
If elected, Trump has promised to end the so-called "carried interest" tax loopholesthat allows hedge fund companies to minimize taxes paid by the partners.
That promise — plus Trump's populist pitch — has generated much hostility to Wall Street Investors.  According to a research paper by a Clinton supporter, Trump's promise of reduced immigration will lower profits by forcing up payrolls, causing a near-term drop in the stock market. The paper was released by Mark Zandi, the chief economist at Moody's Analytics, which "helps capital markets and credit risk management professionals worldwide respond to an evolving marketplace with confidence."
Correspondingly, Hubbard's hedge fund sector and Bloomberg's investment community have strongly backed Clinton over Trump in the 2016 campaign.
The Wall Street Journal reported in July that:
Hedge funds are playing a far bigger role in 2016 than in past elections—and Hillary Clinton has been the single biggest beneficiary.

Owners and employees of hedge funds have made $122.7 million in campaign contributions this election cycle, according to the nonpartisan Center for Responsive Politics—more than twice what they gave in the entire 2012 cycle and nearly 14% of total money donated from all sources so far.

The lines around what constitutes a hedge fund aren't always clear in the data, or in the financial industry. But the numbers are stark. OpenSecrets.org, the center's website, says employees or owners of hedge funds and private-equity firms contributed $27.6 million to pro-Clinton groups or her campaign, according to federal data released in July. Counting contributions from similar private investment funds, the data show seven financial firms alone have generated $47.6 million for groups working on Mrs. Clinton's behalf.

The total for Donald Trump: About $19,000.
On October 26, Fortune.com reported that:
Wall Street is giving more money than ever to influence the outcome of the 2016 elections—but hardly any of it is going to Donald Trump. And that's doubly true of the elite managers of the nation's 1% and giant retirement plans.

So far, hedge funds and their employees have contributed more than $173 million towards political campaigns for the 2016 election, more than triple the amount they gave during the last presidential election cycle in 2012, and more than eight times their contributions in 2008, according to data from the Center for Responsive Politics (on which AFR based its report)…

Including contributions from both hedge funds and private equity firms, Trump and groups supporting him have commanded $239,250, a more than 100-fold increase from the mere $2,054 he'd received in the first half of this year, according to the CFRP's latest data. But at the same time, Clinton has managed to win another $20 million from those funds, bringing her total hedge fund and PE firm haul to $45.2 million, up from the $25.6 million reported over the summer.

Indeed, Clinton is the top beneficiary of the industry's political contributions, while Trump doesn't even rank among the top 10 recipients.
During the peak bubble years from 2004 to 2014, husband Andy Hubbard was a "Managing Director" at Credit Suisse in New York, where he was head of "US Structured Credit Derivatives Trading," according to his biography at LinkedIn.
That conglomerate was hit by multiple federal lawsuits once the bubble burst. 
According to the federal charge filed in November 2012, "residential mortgage­-backed securities … sponsored and underwritten by Credit Suisse in 2006 and 2007 have suffered losses of approximately $11.2 billion." The bank, said the federal accusers"
… systematically failed to adequately evaluate the loans, ignored defects that its limited review did uncover, and kept its investors in the dark about the inadequacy of its review procedures and defects in the loans. The loans in Credit Suisse's mortgage-backed securities included many that had been made to borrowers who were unable to repay the loans, were very likely to default, and ultimately did default in large numbers … By mid-2012, cumulative losses incurred in RMBS sponsored by Credit Suisse in 2006 and 2007 totaled over $11.2 billion, or approximately 12 percent of total initial balances of approximately $93.8 billion. 
There is no evidence that Hubbard was involved in the mortgage problems, and also there is much evidence that the blame for the bubble can be shared with the federal government, quasi-federal agencies, progressive advocacy groups, as well as bankers and Wall Street firms.
But in November 2012, Credit-Suisse agreed to pay $120 million "to settle U.S. civil charges that they misled investors in the sale of risky mortgage bonds prior to the 2008 financial crisis, regulators said on Frida," according to Reuters. 
In March 2014, Credit-Suisse settled with a payment of $885 million to the federal government, without admitting any wrongdoing. It agreed to "pay $885 million to settle two lawsuits with the Federal Housing Finance Authority (FHFA) over $16.6 billion of mortgage-backed securities it sold between 2005 and 2007," according to CNN.
The property bubble had its greatest impact on Hispanic and African-American households, according to a 2011 report by the Pew Research Center. 
The Pew Research analysis finds that, in percentage terms, the bursting of the housing market bubble in 2006 and the recession that followed from late 2007 to mid-2009 took a far greater toll on the wealth of minorities than whites. From 2005 to 2009, inflation adjusted median wealth fell by 66% among Hispanic households and 53% among black households, compared with just 16% among white households.

As a result of these declines, the typical black household had just $5,677 in wealth (assets minus debts) in 2009; the typical Hispanic household had $6,325 in wealth; and the typical white household had $113,149.

Moreover, about a third of black (35%) and Hispanic (31%) households had zero or negative net worth in 2009, compared with 15% of white households. In 2005, the comparable shares had been 29% for blacks, 23% for Hispanics and 11% for whites.
Read the Pew report here.