EAU CLAIRE, Wisconsin — Thousands of people waited in a half-mile-long line to enter the Zorn Arena on Tuesday afternoon, eager to attend a rally with Republican presidential nominee Donald Trump.
Another panoramic shot of enormous line to enter #Trump #EauClaire #Wisconsin rally. Capacity of arena is only 3500. pic.twitter.com/evvQWUEXRk

— Joel B. Pollak (@joelpollak) November 1, 2016
Opposite the entrance were 200 protesters, most of them students at the University of Wisconsin-Eau Claire. 
Panoramic shot of about 200 anti-#Trump protesters at #Trump rally in #EauClaire #Wisconsin. pic.twitter.com/nN1WwypeLK

— Joel B. Pollak (@joelpollak) November 1, 2016
They held a variety of anti-Trump signs, ranging from the angry to the zany.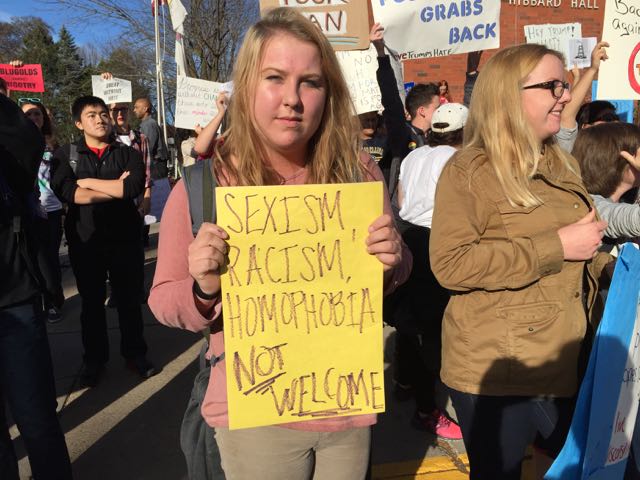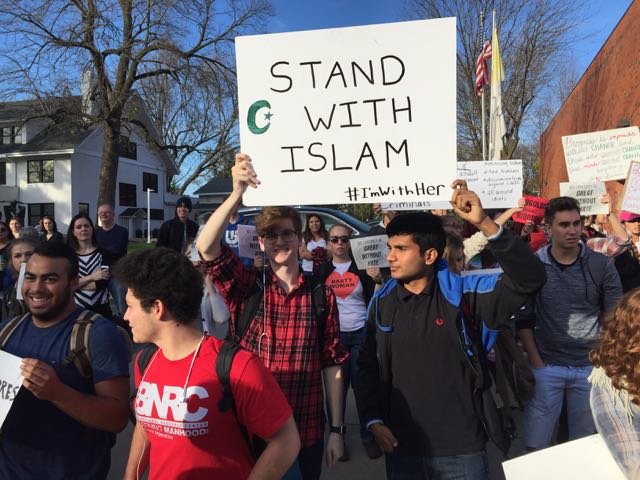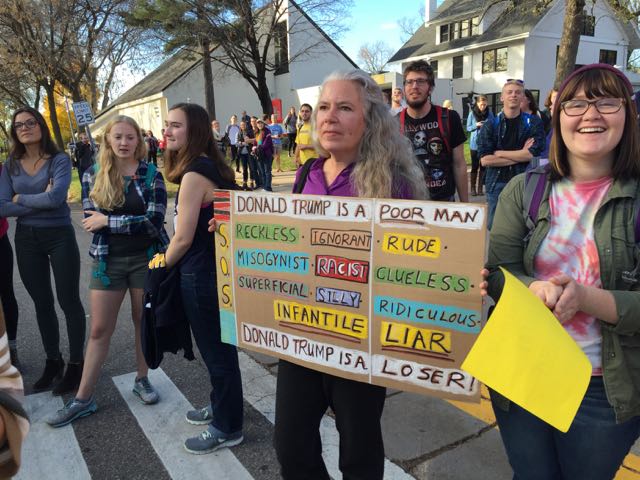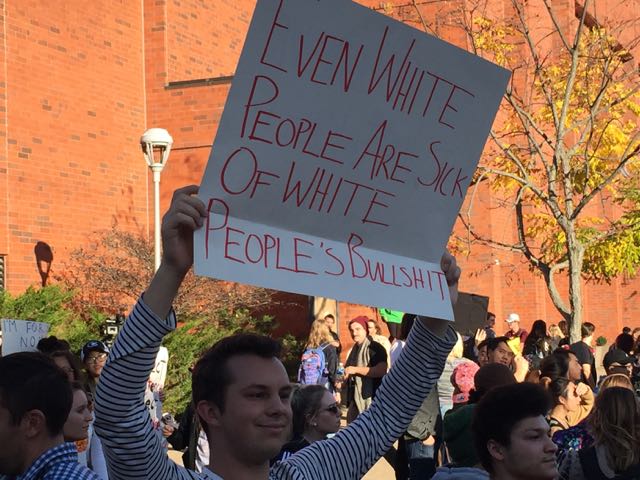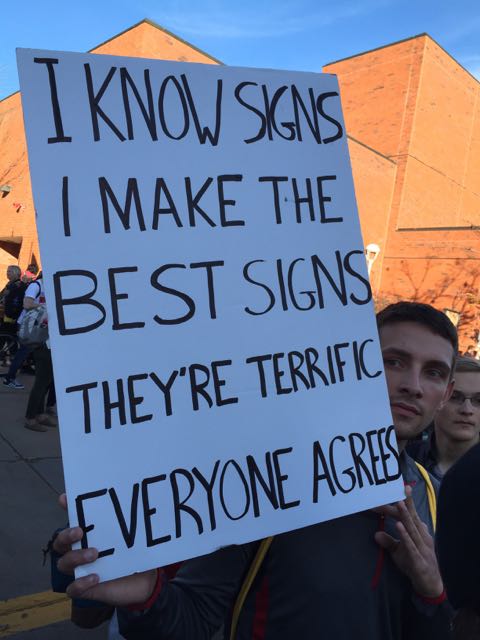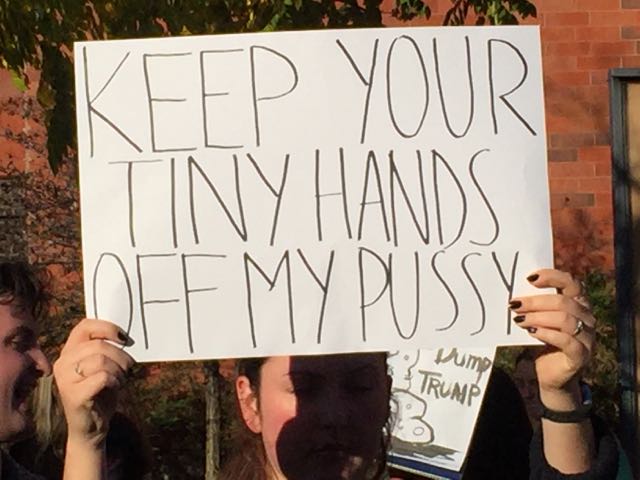 Protesters also led several chants, including "Black Lives Matter!" and "Make America Native Again!"
Breitbart News spoke to one student who held a curious sign reading, "Trump Deletes Tweets."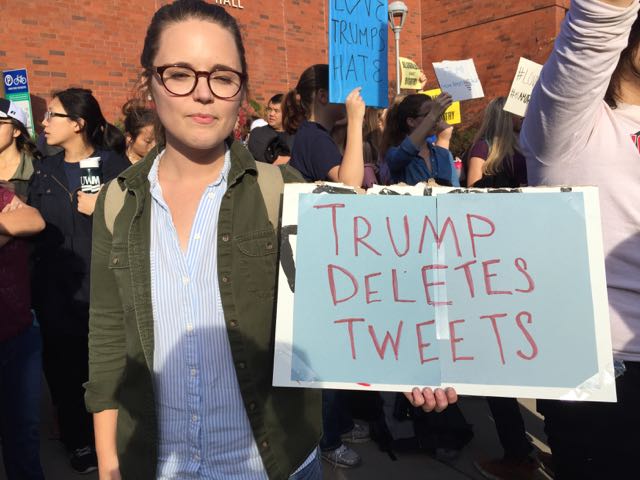 She explained that he often tries to hide the evidence when he says "controversial things." She also intended the sign as a counter to Trump's complaints that Hillary Clinton deleted her emails. She looked on, seemingly with approval, as Breitbart News tweeted the photo.
Later, she approached Breitbart News and asked if the tweet could be deleted.
Two male students held up a sign promoting the Islamic faith: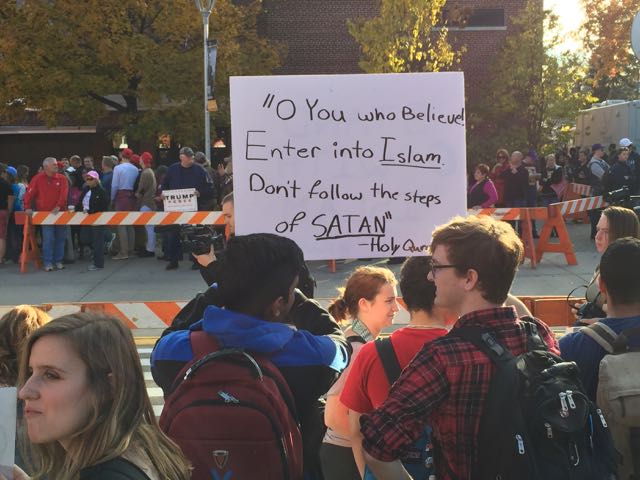 And two female students held a sign reading: "Friends don't let friends vote Trump."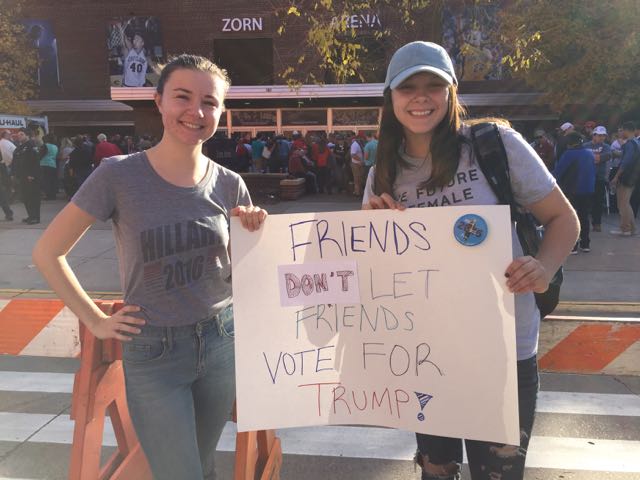 One, Lindsay Hein, said she did not have any friends who were actually voting for Trump, but that some of her relatives were, and they had decided not to discuss politics. The other, Shannon Gunderman, said that one of her friends was at the Trump rally, and that they had discussed the election in a spirit of mutual respect. "We talk even though we disagree."
On the other side, Jake Smith, a U.S. Marine Corps veteran who served two tours of duty in Afghanistan, held his 16-month-old son, Wyatt, and sported a "Bomb the shit out of ISIS" button.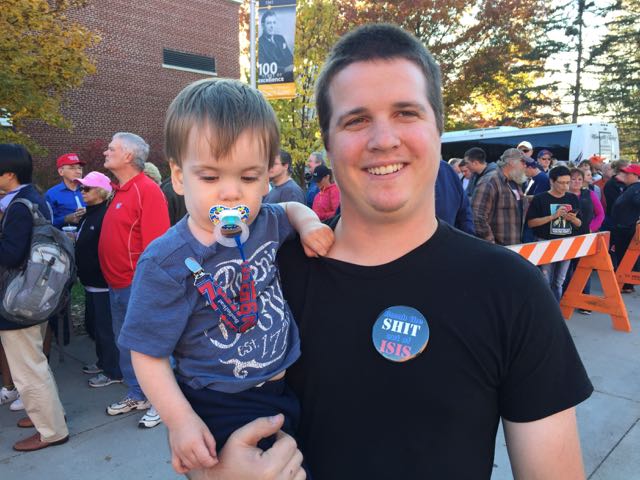 He had driven to the rally from Minnesota, he said, because he was pro-military and pro-gun. He also said he hoped to see "more detail" about Trump's economic policies, and wanted to make sure Trump would "not decrease the size of our military, but keep our military strong."
Another Trump supporter, Pearl, a housewife who drove from Minneapolis to be at the event, said she was determined not to see Hillary Clinton elected president. "I think this country's really gone bad if we elect her — she belongs in jail," she said.
Asked about the protesters across the street, Pearl said: "They don't look too bad. I don't think Hillary paid these ones."
She added: "As usual, they can't even spell."
She seemed to be referring to a sign accusing Trump of "rasism":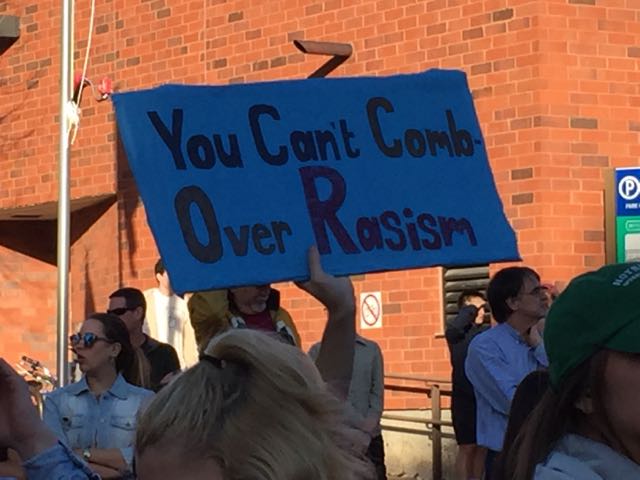 As shouts were volleyed back and forth across the police cordon, several female students began chanting, "Get off my campus!"
One of them told Breitbart News that while she supports free speech, "what I don't respect is that students of color are attacked by Trump supporters yelling 'Go back where you came from'."
She said one such incident had happened that day.
People continued to arrive at the rally, standing patiently outside in the cooling air as the sun began to set, despite the fact that there was unlikely to be any room left in the building.
The Zorn Arena holds 3,500 people in the bleachers, and has room for roughly 1,000 additional people on the floor.
(Special thanks to Phil of Eau Claire Bike Cabs.)
Joel B. Pollak is Senior Editor-at-Large at Breitbart News. His new book, See No Evil: 19 Hard Truths the Left Can't Handle, is available from Regnery through Amazon. Follow him on Twitter at @joelpollak.