A national exit poll is showing President-elect Donald Trump won the Catholic vote Tuesday, 52 percent to Hillary Clinton's 45 percent.
The poll, published by CNN, shows 23 percent of Americans who voted this election season identified themselves as Catholic, while 27 percent said they were Protestant, 24 percent "Other Christian," 15 percent "No Religion," and three percent "Jewish." Of the Catholics who voted, 52 percent voted for Trump and 45 percent voted for Clinton.
In April of 2015, Clinton criticized the beliefs of traditional faith groups, asserting that these beliefs would have to be "changed" to accommodate abortion.
"Far too many women are still denied access to reproductive health care… deep-seated cultural codes, religious beliefs and structural biases have to be changed," she said.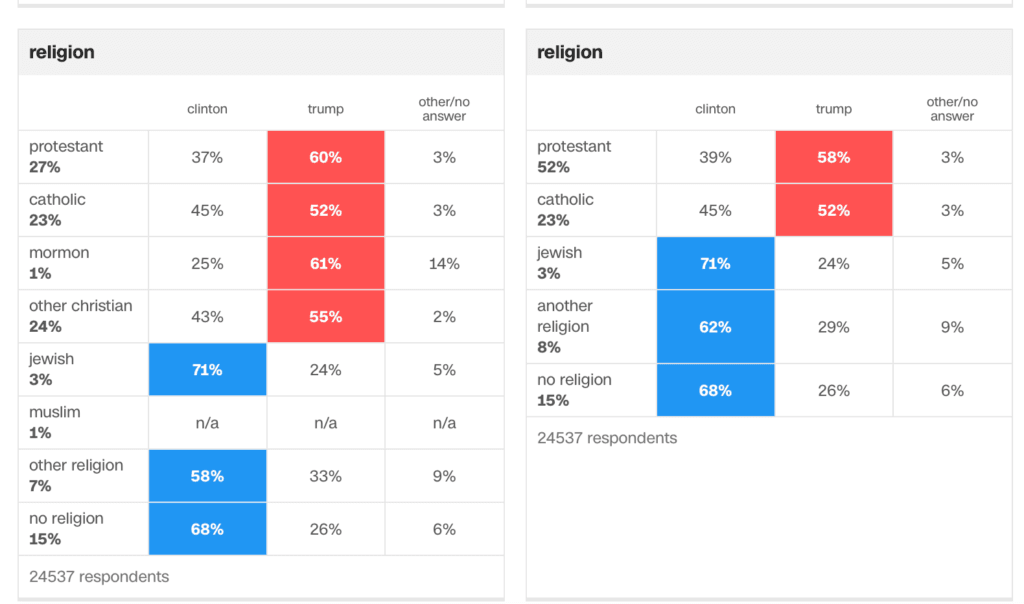 In 2008 and 2012, Republican presidential candidates John McCain and Mitt Romney lost the Catholic vote to Barack Obama. In 2012, 25 percent of voters were Catholic, but Obama won 50 percent of that faith group, while Romney won 48 percent. In 2008, 27 percent of voters identified as Catholic, and 54 percent of them voted for Obama the first time, while McCain took 45 percent of that group.
CNSNews.com provides the following graph: