Green Beret John Wayne Walding lost his leg while searching for insurgents in Afghanistan's Shok Valley in 2008 and faced something he never thought he could–the word "can't"–he said during a speech at the Department of Interior on Thursday.
It was a bitter pill for the twenty-something Texan who believed he could do anything he put his mind to.
Walding spoke of "that sadness [that] would creep into your mind" from not having the ability to walk. "If I can't even do that, how am I going to be a man and raise my wife and kids?" he wondered. "April 6, 2008, was the day I learned 'can't.'"
It was not until he was invited on a ten-day grizzly bear-hunting trip in Alaska that he was reintroduced to the word "can" — and it changed his life, he said.
"Thank God that I had the courage to say 'yes,'" he said. "It was the most, just absolute catalyst into my recovery, right? Once that happened, it got the hamster back on the wheel."
He would go on to run the Army Ten Miler and other races and become the first prosthetic-limbed soldier to graduate the Special Forces Sniper Court.
Walding was one of the veterans at the Interior Department on Thursday for a gathering of veterans, hunting, and wildlife groups meeting to discuss how to improve access for hunting and fishing for veterans, particularly wounded warriors and those with PTSD:
Green Beret veteran John Wayne Walding addresses groups at the Interior Department (Kristina Wong/Breitbart News) 
Interior Secretary Ryan Zinke — himself a retired Navy SEAL veteran, the father of a Navy diver, and father-in-law to a Navy SEAL — hosted the gathering to kickstart the initiative, one of his big priorities at the department.
Speaking to the group of several dozen, he noted that today's veterans spend their entire careers at war, noting that his son-in-law has deployed more than ten times.
"Our veterans are spending more time overseas than they are at home. And it has an effect on the VA. It has an effect on communities because normal has become over there, rather than over here, so I'm concerned about the experience when they come home that our public lands are once again returned to the people," he said.
But throughout the years, Zinke said there has been a rollback of access to the nation's wilderness for hunters and fishers, which he aims to reverse.
"Hunting and fishing is part of our legacy. And a lot of veterans are part of our hunting and fishing experience, and I am concerned that we've seen a lack of access, roads being closed, the wilderness, even," he said.
"Some wildernesses have become more restrictive. Access is becoming harder and harder to find," he said. "So we've done a pivot within Interior. My priority is to return the public lands to the public and make sure we have access and make sure that hunting and fishing is a part of our legacy."
The Interior Department manages one-fifth of land in the United States, including national parks, recreation areas, wildlife refuges, and other public lands used for hunting, fishing, and recreation.
"We're introducing a great concept called Pinchot," he said, named after conservationist Gifford Pinchot, who believed in using "best science and best practices for the greatest good for the longest term."
"That is the American conservation ethic that I grew up with, and that is the American conservation ethic Interior is now prescribing to," he said. "Veterans play an enormous role in that":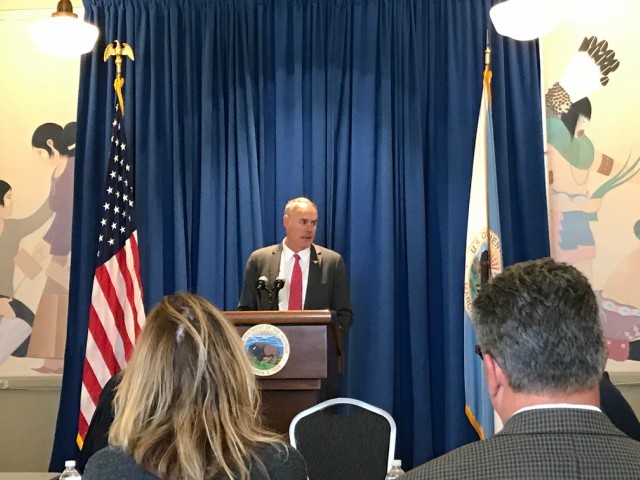 Secretary Zinke discusses an initiative to get veterans better access to public lands (Kristina Wong/Breitbart News)
Zinke also noted the Interior Department's roots in the military, noting that the department came out of the Department of War in 1849, which is why the Interior secretary has a flag.
"That is tradition, and that is honoring tradition of those who came before me," he said. Zinke said he looked at things within his secretarial power that he could do.
Don Peay, founder of Sportsman for Fish and Wildlife, also addressed the group, talking about helping veterans find peace after coming home in the outdoors.
He spoke about Marine Lance Corporal Chance Russell Phelps, who was killed on April 9, 2004, and about whom the movie Taking Chance is based. Peay said Phelps loved to hunt, and his father told him that restrictive Interior policies have destroyed what they loved.
Peay also thanked veterans for their service: "If you're not willing to stand for our flag, get the hell out of America. Without all of you, we have no freedom."
Mark "Oz" Geist, a Marine veteran and member of the security team that fought the Battle of Benghazi, also spoke to the group about his own experience growing up hunting in eastern Colorado.
"Hunting, open spaces…we know how much that means to us and our veterans," he said. "It's those open spaces that are so important":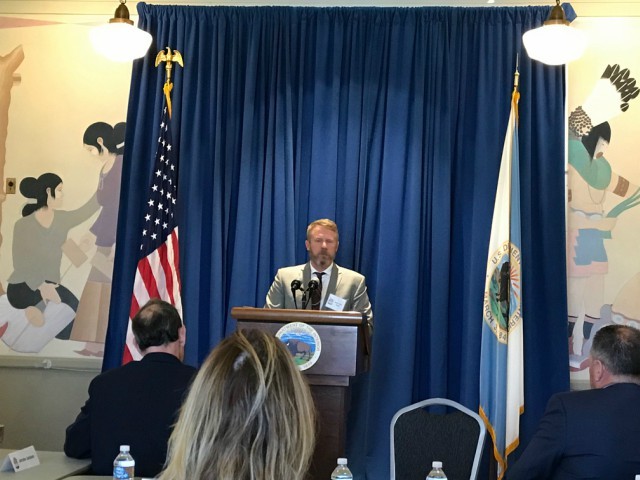 Mark "Oz" Geist speaks to groups at the Interior Department (Kristina Wong/Breitbart News) 
Rick Cicero, a double amputee and one of the founders of Honored American Veterans Afield's Learn to Shoot Again program, discussed with Breitbart News the healing impact for wounded warriors when they go out fishing and hunting.
"How can we get more opportunities to take these guys out and show them the blessings that they still have? Get rid of that C-A-N-T word and make it the C-A-N word that it's meant to be," said Cicero, a communications and intelligence specialist assigned to Special Forces.
Other veterans and representatives at the meeting included:
Matthew Shuman, American Legion; Ron Regan, Association of Fish & Wildlife Agencies; Keith Tidball, Cornell University; Tom Kilgannon, Freedom Alliance; David Hagner, Freedom Alliance; Anthony Pace, Freedom Hunters; Tom Deoudes, Freedom Hunters; Jim Hazlett, Freedom Hunters; Brian Gliba, Freedom Hunters; Dan Theole, Freedom Hunters; Cathleen Pearl, Got Your 6; Brandon Eden, NASA; Tom Taylor, Honored American Veterans Afield; Sandy Sandberg, Honoring Our Veterans; Tom Porter, Iraq and Afghanistan Veterans of America; Susan LaPierre, National Park Foundation;  Chris Cox, National Rifle Association Institute for Legislative Action; Graham Hill, National Rifle Association; Mark Oliva, National Sports Shooting Foundation; Larry Thueme, Operation Injured Soldiers; Kevin Stone, Operation Injured Soldiers; David Folkerts, Project Healing Waters; and Amy Simon, Rivers of Recovery: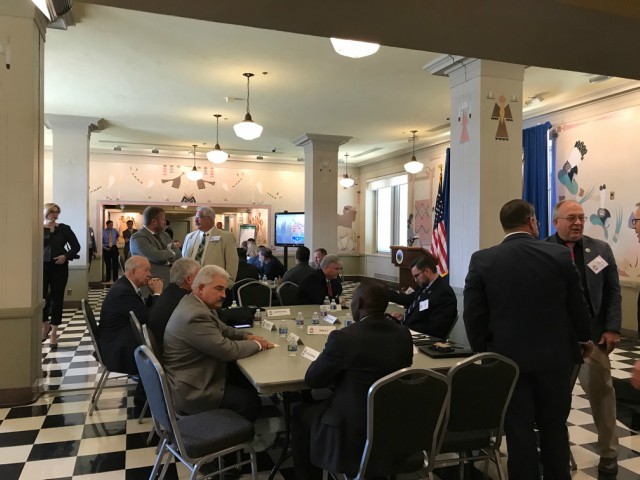 Veterans and representatives of veterans, hunting, and fishing groups at the Interior Department (Kristina Wong/Breitbart News)