The Matawan Police Department has removed a light-hearted post from their Facebook feed, featuring the "OK" hand sign.
According to NJ Advance Media, Monmouth County Police Chief Jason D. Gallo said that the tone of their Facebook page is "intentionally playful." According to Gallo, the department "[tries] to keep it very cool, very lighthearted."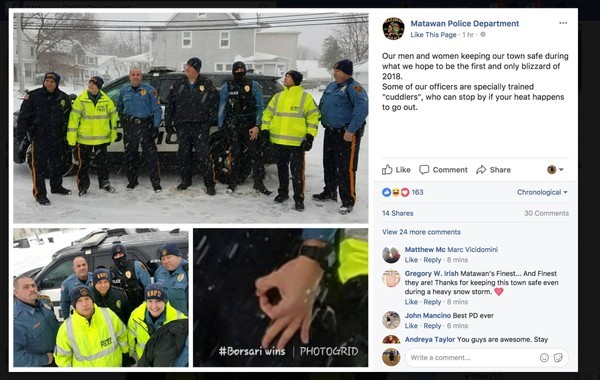 It is there that they announced a Christmas tree lighting complete with grilled cheese sandwiches, hot chocolate, popcorn, and cookies. They posted a warning about incoming snowfall, with a tongue-in-cheek message that some of the stress concerned do not have "diplomatic immunity" from the parking regulations. And, on Thursday, January 4th, they posted a group picture out in a local snow storm, as "specially trained 'cuddlers'" willing to help any residents who lose heat in the storm.
But that last post did not go as planned. A commuter interpreted one officer's inverted "OK" gesture as racist, prompting the chief to remove the picture. But the gesture was actually an innocent reference to the schoolyard "circle game," and not the thoroughly debunked 4chan meme about white supremacy. "Someone tried to say it was something racial. It's just ridiculous," Gallo said. The response was predictably discouraging. "Unfortunately something nice turned into us being in the news," he added. "That's why a lot of departments are not on social media."
You can find Nate Church being a huge nerd @Get2Church on Twitter.