James Wolfe, the former Senate Intelligence Committee security director indicted for making false statements to the FBI about leaking information to reporters, entered a not guilty plea Wednesday.
Wolfe's lawyers, Preston Burton and Benjamin Klubes of Buckley Sandler LLP, released the following statement after the former Capitol Hill staffer appeared in a D.C. court.
"He was entrusted with the government's most important classified secrets while working as the Director of Security for the Senate Select Committee on Intelligence for almost 30 years. Mr. Wolfe never breached that trust," the statement said. "Buckley Sandler will vigorously defend Mr. Wolfe against this unfair and unjustified prosecution."
Wolfe's lawyers also said they will file an Order from the Court requesting all federal government employees—including President Donald Trump—refrain from making "improper and prejudicial" remarks about their client's case.
The 57-year-old has also launched a legal defense fund on GoFundMe with a $500,000 fundraising goal.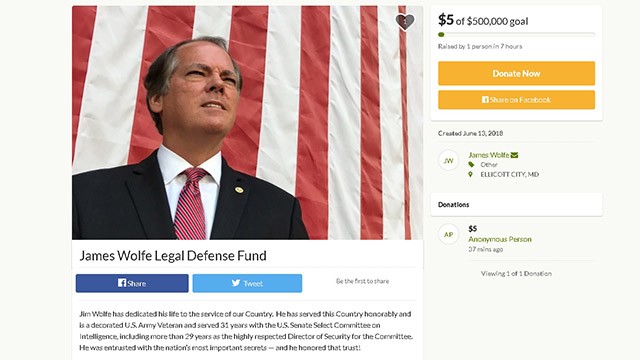 "Jim is battling the full weight of the Trump Administration's Department of Justice in this unwarranted and unfair prosecution," the campaign description says. "He has been swept up in the frenzy surrounding information leaks in today's charged DC atmosphere, but he has not been charged with leaking or mishandling classified information. He has been singled out among Congressional and Executive branch officials for contacts with reporters.  His case raises very real First Amendment and Freedom of the Press issues.
"Paying legal defense bills is a crushing burden for anyone — especially someone who has worked for the government his entire adult life.  He needs the support of others in this fight."
Justice Department officials announced charges against Wolfe last Thursday, accusing the Senate Intelligence Committee security chief of making false statements to the FBI about the transmission of classified information to reporters.
While the 11-page indictment does not identify the reporters, REPORTER #2 is widely believed to be then-Buzzfeed News turned New York Times national security reporter Ali Watkins.
"I've watched your career take off even before you ever had a career in journalism… I always tried to give you as much Information [sic] that I could and to do the right thing with it so you could get that scoop before anyone else," Wolfe wrote to REPORTER #2, court documents say.
"I always enjoyed the way that you would pursue a story, like nobody else was doing in my hal1way [sic]," Wolfe reportedly said to Watkins in December 2017. "I felt like I was part of your excitement and was always very supportive of your career and the tenacity that you exhibited to chase down a good story."
Both Watkins and her attorney, Mark J. MacDougall, would not give comment to the New York Times on the allegations.
At the time of this writing, Wolfe's GoFundMe campaign has raised $5 from a single donor.