Using the word "natural" is sometimes unkind. The description can thoughtlessly dismiss the effort, ambition, stress, and sweat equity that goes into making it look so easy. 
Movie stars are different. 
Not all of them. John Wayne spent ten  years in C-Westerns teaching himself how to be John Wayne before "overnight success" arrived in "Stagecoach" (1939). Rita Hayworth suffered electrolysis, plastic surgery, the casting couch and countless thankless roles before it all came together in 1941's "Strawberry Blonde."
Lauren Bacall? There was a natural.
Born Betty Joan Perske  in the Bronx, in 1924, Betty's smoldering feline beauty won her the cover of Harper's Bazaar and a screen test with no less than Howard Hawks, who quickly signed her to a 7 year contract and cast her as the lead opposite Humphrey Bogart in "To Have and Have Not."
When filming began, her name had been changed to Lauren Bacall and she was just 19.
Sure, as a teenager, Bacall had taken some acting lessons, and there's no question that in those days 19  was a lot different than 19 is today. But she was still sailing into waters where only the experienced Bette Davis and Ingrid Bergman had won a draw. In 1944, Humphrey Bogart was the biggest star alive. This was post-"Casablanca." Bogart was now Bogart and the job of any actress cast opposite him was to allow him to be Bogart.
Nervous, unsure of herself, in way over head, and sporting the smoky voice Hawks demanded, this teenager walked on screen, leaned against a door, asked for a match, and sent a bolt of lightning up the spine of every red blooded heterosexual male in America, including her co-star. All it took was countless takes (she kept dropping the tossed matchbox) and four little words:
—
—
Seventy-years have done nothing to diminish the on-screen chemistry between the two stars — because it was real. Bogie and Bacall fell in love while filming "To Have and Have." He was 25 years her senior and in his third and already-deteriorating marriage. "Baby," as he called her, would be Bogart's last — his last love, his last marriage, his last affair.
Bogie was  conquered.
At 20, in the palm of her slender hand, Betty Perske from the Bronx held the world and the world's biggest movie star.
Being a natural, though, will only take you so far.
To become a legend, Bacall took the profession of acting seriously. She studied her craft while waging agonizing battles with Jack Warner and all of Hollywood. She was soon known as the most difficult star in the business and probably spent as much time on-suspension from Warner Bros. as off.
It happened like this: After her sophomore film flopped Bacall became determined to manage her own career. Moreover, Bogart wanted a wife-actress (not the other way around). The result was that during a decade when actors sometimes made 3 and 4 films a year, Bacall wisely chose only three more — "The Big Sleep" (1946), "Dark Passage" (1947), "Key Largo" (1948) — all of them with Bogart, all of them classics.
Between 1950 and Bogart's premature death from cancer in 1957, Bacall made ten or so films, most notably, "Young Man with a Horn" (1950), with a struggling young actor she once had a crush on named Kirk Douglas; "How to Marry a Millionaire" (1953), where she went sizzle for sizzle alongside in-their-primes Betty Grable and Marilyn Monroe; and "Written on the Wind" (1956), a Douglas Sirk melodrama co-starring Rock Hudson.
It was during these mythical days that Bacall coined the term that still defines "exclusive cool": The Rat Pack. She, their den mother, served alongside Frank Sinatra, Judy Garland, Swifty Lazar, George Cukor, Hepburn and Tracy, Cary Grant, and of course Bogart.
A lifelong liberal Democrat, Bacall's activism began with Bogart and protests against the House Un-American Activities Committee and in support of The Hollywood Ten — the infamous uncooperative witnesses with known communist ties who were eventually blacklisted. Stories vary, but either the negative publicity or a sincere realization that they had been played for suckers resulted in both Bogart and Bacall famously withdrawing their support for the Ten.  
Nonetheless, Bacall would campaign for Democrats' Robert Kennedy and Adlai Stevenson. In 2005 she proclaimed herself a proud liberal and "anti-Republican." Her most famous foray into politics, however, was causing President Truman no small amount of trouble when this famous photo hit the wires: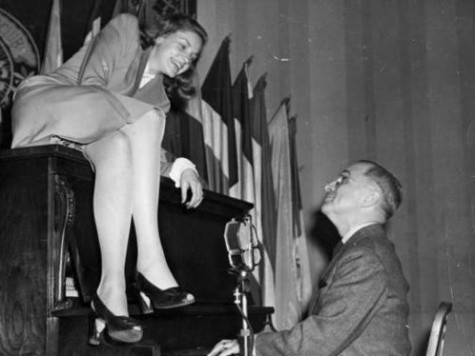 Very much her own woman, Bogart's death did nothing to diminish Bacall's status with the public or in the business of show. She moved to Manhattan, became a fashion icon, almost married Frank Sinatra, did marry Jason Robards, might have had an affair with Adlai Stevenson, and finally won an honorary Oscar in 2009.
Along the way she co-starred with Paul Newman in "Harper" (1966), John Wayne in "The Shootist" (1976), pretty much everyone in "Murder On the Orient Express" (1974), James Garner more than once, and was nominated for her first Oscar at the age of 72 in "The Mirror Has Two Faces" (1996).  
Bacall was 41 when she made "Harper," looked everyday of it, was never more beautiful and retained that beauty well into her eighties.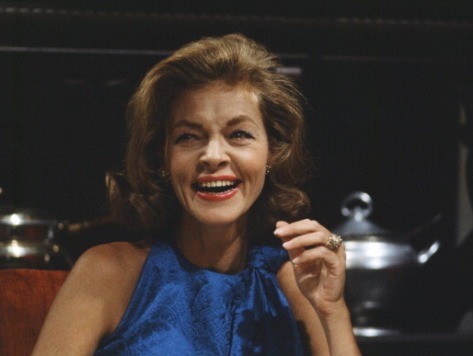 Lauren Bacall was tough, confident, accessible, unknowable … a lava that steamed but would never cool; a man's kind of woman, one of the boys; a broad, a dame, and always a lady. She was sensual, coy, knew who she was, moved like sex, spoke with a voice that made you grateful to be alive, was never caught off guard and never-ever without her dignity.  
Bette Joan Perske died Tuesday at age 89 and is eternal as Lauren Bacall in black and white.
Follow  John Nolte on Twitter @NolteNC