Former California Governor and action star Arnold Schwarzenegger reportedly approves of his son's new girlfriend, Miley Cyrus.
The younger Schwarzenegger began dating Cyrus in November, and the pair has been making headlines every since.
According to Page Six, the new couple was spotted in Las Vegas on New Year's Eve partying with Arnold and his girlfriend, Heather Mulligan. Actress Sofia Vergara and her fiancé, Joe Manganiello, joined them.
The group began their celebration at The Strip House, a high-end steak restaurant, where a source revealed Cyrus ordered a vegetarian dish and was wearing high heels that lit up.
The triple date also consisted of exclusive meet and greets with Britney Spears, just before her show "Piece of Me," where they were joined by friends and sat in the front row.
Cyrus and Schwarzenegger reportedly hit the black jack table at the Planet Hollywood Casino until 4 a.m., which was when they called their wild night of partying quits.
Breitbart News previously reported that Patrick's mother, Maria Shriver, banned Cyrus from celebrating Christmas with her family in Massachusetts, as she thinks the former Disney star is a bad influence on her son.
Cyrus made news recently after she smoked pot onstage at Art Basel in Miami, where she and Patrick also dropped $10,000 at a strip club.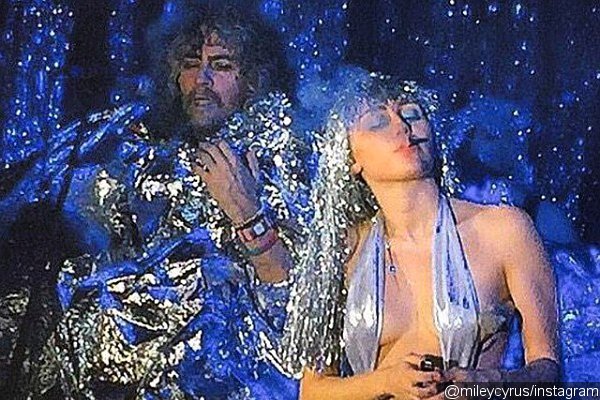 Patrick has been resistant to his mother's wishes, according to a source, which has strained their relationship. Others in the Shriver family, such as uncle Anthony Shriver, have reportedly endorsed Patrick and Miley's romance.
"Miley spent the whole holiday season with Patrick, Arnold and Heather Mulligan, said a source. "They spent Christmas and then New Year's together. Arnold approves of his son's relationship, and he was the one who suggested they all spend New Year's Eve together in Las Vegas."