He was smiling… That's right. You know, that, that Luke smile of his. He had it on his face right to the very end. Hell, if they didn't know it 'fore, they could tell right then that they weren't a-gonna beat him. That old Luke smile. Oh, Luke. He was some boy. Cool Hand Luke. Hell, he's a natural-born world-shaker. — Dragline
In just 83 years, The Mighty Paul Newman accomplished what most of us couldn't in three lifetimes. Newman was a film actor Oscar-nominated 9 times, the director of a movie nominated for Best Picture, a respected stage actor, a war veteran, an accomplished race car driver,  a wildly successful manufacturer of a food products line, and a philanthropist's philanthropist.
His Hollywood marriage to Joanne Woodward lasted until his death — a full half century.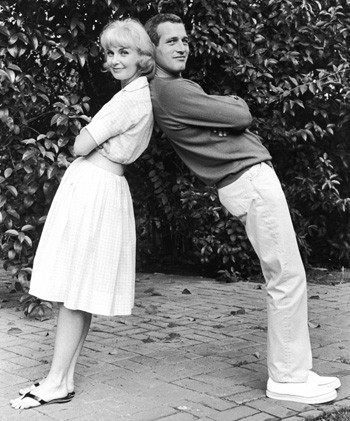 Most of all, Paul Newman was a one-of-a-kind movie star who, unlike anyone else in his generation, started out in the Golden Age of the studio system and remained a top star and leading man for another five decades.
Despite all the changes in the world, Paul Newman was never an anachronism. Kirk Douglas couldn't make the leap. Brando became a self-parody. Beatty worked too infrequently. James Dean and Monty Clift seemed awfully eager to die young, and did.
To young people in the turbulent sixties, "Harper" (1966),  "Hombre" (1967), "Cool Hand Luke" (1967), "Winning" (1969), and "Butch Cassidy and the Sundance Kid" (1969) were as counter-culture and subversive as "Easy Rider." Even with all that gray hair, Newman spoke to a restless, reckless, and ultimately lost generation.
In 1969, Paul Newman was the biggest star in the country to those who believed you should never trust anyone over 30. He was 44 years old.
Because these films were timeless (as were Newman's performances in them), over the bridge of generations, they still speak out loud for anyone who bristles at authority or the idea of drinking someone else's Kool-aid.
The same goes for Newman's legendary performances that led straight into the 21st Century:  "The Hustler," "The Long Hot Summer," "Cat On a Hot Tin Roof," "The Sting," "Slap Shot," "Fort Apache the Bronx," "Absence of Malice," "The Verdict," "The Color of Money," and "Nobody's Fool."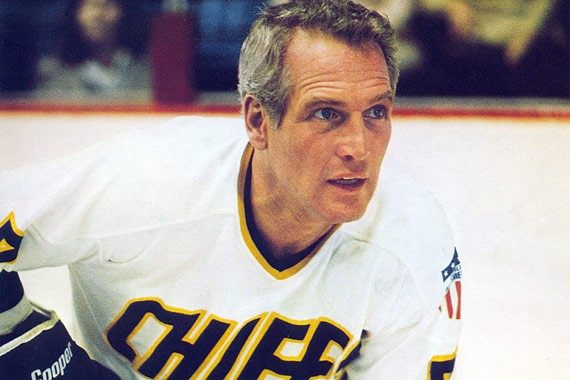 Newman portrayed outlaws, drunks, criminals, failures, losers, hustlers, rogues, grifters, working class bums, and outright bastards. We admired them all because beneath it all his characters were always what every man should be  — their own man.
This was true of the real Newman, a functioning alcoholic (he drank a case of beer a day) and fitness freak who decided  in his forties to take up racing. Over the decades not only would he (and his teams) win a number of prominent races, he would win something even more important to him than trophies: the respect of the other drivers who at first laughed him off as a dilettante.
In 1986 Paul Newman was a 61 year-old six-time Oscar nominee who had never taken home the gold. That year, the Academy gave Newman the consolation prize it gives to all Oscar-less legends at the end of their careers: an Honorary Oscar.
The very next year, Newman showed everyone what he was made of by winning a competitive Best Actor Oscar for "The Color of Money." Newman would work for another two decades and go on to win two more Oscar nominations.
At the age when most of us would be longing for retirement, Newman started and built Newman's Own into an unbelievably successful gourmet food company that went on to make hundreds of millions of dollars in profits — every cent of which has gone to charity.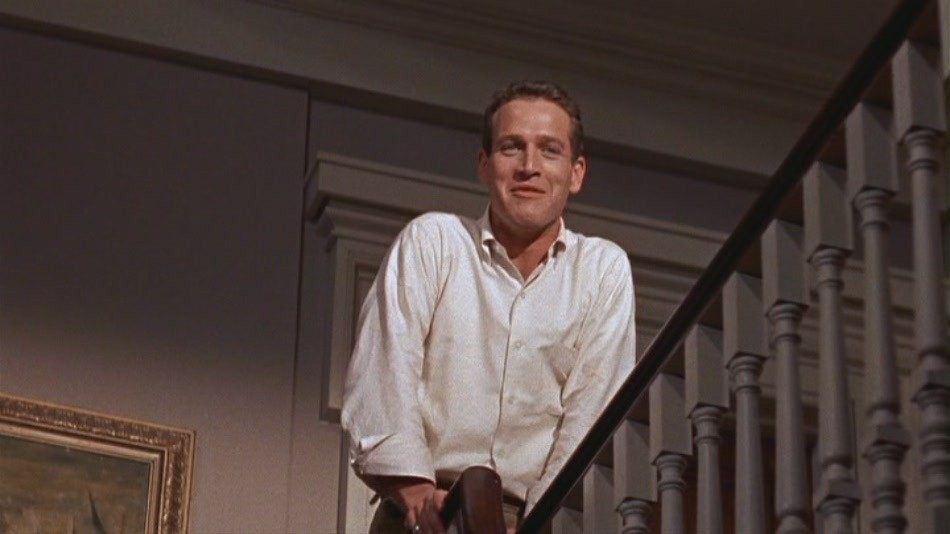 Paul Newman was genetically gifted with masculine beauty and still one of the guys;  a Democrat who put his fortune where his mouth was; a classical liberal who loved America and who admired and was friends with John Wayne; a sex symbol who called his wife between takes … because he missed her.
Far from perfect, nothing close to a saint, Paul Newman was still a good man, and his own man.
In his definitive biography, Shawn Levy writes that "Just days before he succumbed [to cancer],  sitting in the garden at Westport with his daughters, he spoke his last recorded words and spoke about how he felt about it all."
"It's been a privilege to be here," Newman said.
The privilege was all ours.
Today would have been Paul Newman's 90th birthday.
John Nolte on Twitter @NolteNC