Academy Award-winning actress and noted feminist Meryl Streep is under fire for a controversial T-shirt she wore during a recent photo shoot to promote her new film about women's suffrage.
Streep posed for Time Out London last week along with the co-stars of her upcoming film Suffragette, in which Streep portrays women's rights pioneer Emmeline Pankhurst as she fights for voting equality in turn-of-the-century Britain. Streep and her co-stars wore shirts with a famous Pankhurst quote on them to the shoot. The shirts read: "I'd rather be a rebel than a slave."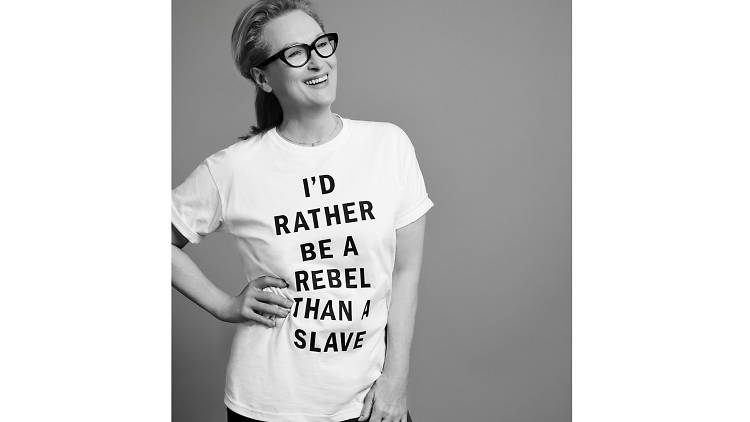 Feminism! Fame! Fights! Foolishness! Meryl Streep and the stars of SUFFRAGETTE speak out: http://t.co/XRVJ5avftI pic.twitter.com/4gpseWK8yc

— Time Out Film (@TimeOutFilm) September 29, 2015
The full quote from Pankhurst reads: "I know that women, once convinced that they are doing what is right, that their rebellion is just, will go on, no matter what the difficulties, no matter what the dangers, so long as there is a woman alive to hold up the flag of rebellion. I would rather be a rebel than a slave."
When taken in context with the full quote, it is clear that the slavery reference on the T-shirts is not the racial slavery of the pre-Civil War United States, but the "slavery" of women being denied the right to equal representation. But, as the Washington Post reports, a number of media outlets and Twitter activists promptly shredded Streep and the producers of the film for purportedly connecting women's struggles with black civil rights.
As Vulture's Ira Madison III notes (while still sharply critical of the T-shirt choice): "Clearly the intention was to honor Pankhurst's words and not to make an allusion to the Confederate States of America and slavery; but people are going to see what they're going to see, and people saw that connection pretty quickly."
People did indeed see the connection quickly.
"It's certainly an inappropriate thing to have four white women wearing slavery T-shirts," women's suffrage historian Jad Adams told the Telegraph. "People talked about the emancipation of women. Their condition is nothing like slavery but in order to make the challenge more exciting and ramp up the feelings of disenfranchisement, women liked to compare their situation to that of slaves," he added.
The Huffington Post's Zeba Blay conceded that the quote was "probably rousing and inspiring and totally OK within the context of that time."
"However, this is not a 20th-century voting rights rally — it's a highly produced fashion shoot which features beautiful, famous white women promoting a film with a quote that references slavery. And as many Twitter users are pointing out online, perpetuating the idea that sexism and racism are somehow the same thing, especially when it comes to the history of slavery, is pretty damaging."
New Republic senior editor Jamil Smith wrote that "More black folks around Meryl Streep and company may have helped" avoid the T-shirt snafu, while Flavorwire's Sarah Seltzer determined the "logical conclusion is that nearly everyone involved in the effort was so white that no one even noticed."
BlackLivesMatter's DeRay McKesson said that Streep "has to know better."
Meryl Streep has to know better. And if not, her publicist should have.

— deray mckesson (@deray) October 5, 2015
The backlash against the T-shirts was apparently so loud, at least in the United States, that Time Out London issued a forcefully worded statement in its own defense, saying the context of the photoshoot and shirts was "absolutely clear to readers who read the piece."
"The original quote was intended to rouse women to stand up against oppression – it is a rallying cry, and absolutely not intended to criticise those who have no choice but to submit to oppression, or to reference the Confederacy, as some people who saw the quote and photo out of context have surmised," the outlet wrote. "Time Out published the original feature online and in print in the UK a week ago… It has been read by at least half a million people in the UK and we have received no complaints."
Streep's role as Pankhurst is well-timed; in June, the three-time Oscar winner personally lobbied Congress to revive the long-dormant Equal Rights Amendment. The actress has long been a champion of women's rights, particularly in Hollywood (although she did ruffle feathers recently when she declared herself a "humanist" rather than a "feminist.")