Feminist activists sprawled out on the red carpet and shouted protest chants at the London premiere of Meryl Streep's British women's movement drama Suffragette on Wednesday.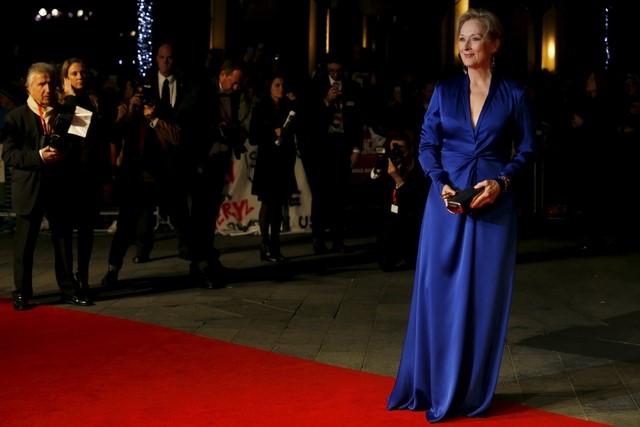 The film stars Streep, alongside Carey Mulligan and Helena Bonham Carter, and depicts the British movement for women's suffrage in the early 20th Century.
The Independent newspaper reports protesters created a chaotic scene, by waving banners at the sides of the London's Leicester Square, with at least one reading, "dead women can't vote."
A number of the women also locked arms in protest on the red carpet.
"Deeds Not Words" @SistersUncut #deadwomencantvote #SuffragetteMovie pic.twitter.com/3S7AH29iuN

— Dickie James (@DickiJames) October 7, 2015
Security pulled them apart and escorted them away, as seen on the video below.
Watch this video of us being dragged off the red carpet. Fight goes on. Stop cuts to domestiv violence services now. https://t.co/1AEfRq0pk6

— Sisters Uncut (@SistersUncut) October 7, 2015
Some of the red carpet activists were wearing shirts that read, "2 women killed everyone week," and "domestic violence cuts kill."
The Independent reports some demonstrators let off purple and green smoke bombs, paying homage to colors adopted by the suffragette's Women's Social and Political Union.
One anonymous woman told The Independent, "We aren't going to move, we're the modern suffragettes and domestic violence cuts are demonstrating that little has changed for us 97 years later"
Another person witnessing the chaos was quoted by The Mirror saying the women who jumped the barrier chanted, "David Cameron take note, dead women can't vote."
The Feminist group Sisters Uncut was behind the protest, which was in response to state budget cuts to women's services.
We invaded the red carpet to protest cuts to domestic violence services.Austerity´s killing women.#deadwomencantvote https://t.co/mCx0puz3me

— Sisters Uncut (@SistersUncut) October 7, 2015
A flyer being passed out by the all-inclusive women's group blames austerity cuts for the action, and notes: "Sisters United is a feminist direct action group fighting against cuts to domestic violence services. Our group is open to all women (trans, intersex and cis), all those who experience oppression as women (including non-binary and gender non-conforming people) and all those who identify as women for the purpose of political organising."
Here are our flyers from tonight. #deadwomencantvote pic.twitter.com/8DCutvkapr

— Sisters Uncut (@SistersUncut) October 7, 2015
Actress Helena Bonham Carter, who stars as Edith Ellyn in the film, praised the actions of Sisters Uncut, telling Sky News, "If you feel strongly enough about something and there's an injustice there you can speak out and try to get something changed."
Carey Mulligan and Helena Bonham-Carter say protests at premiere of 'Suffragette' is the 'perfect response' https://t.co/HkSvVP8qVX

— Sky News (@SkyNews) October 7, 2015
"It's the perfect response to our film," added Carter, while her co-star Carey Mulligan described the women as "brave."
Suffragette debuts in the U.K. Oct. 12, and will hit U.S. theaters on Oct. 23.