Charlie Sheen took extreme measures to keep his HIV-positive status a secret, including having his sexual partners to sign a confidentiality agreement, according to In Touch Weekly.
Just hours before Sheen went public on Tuesday with his diagnosis, the magazine published a copy of a non-disclosure agreement that Sheen allegedly required his sexual partners to sign.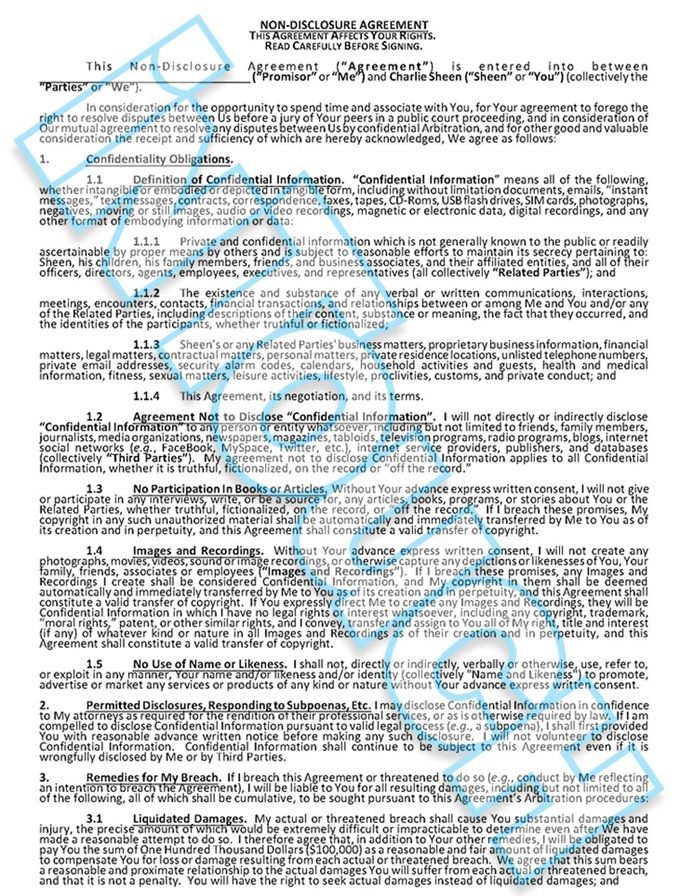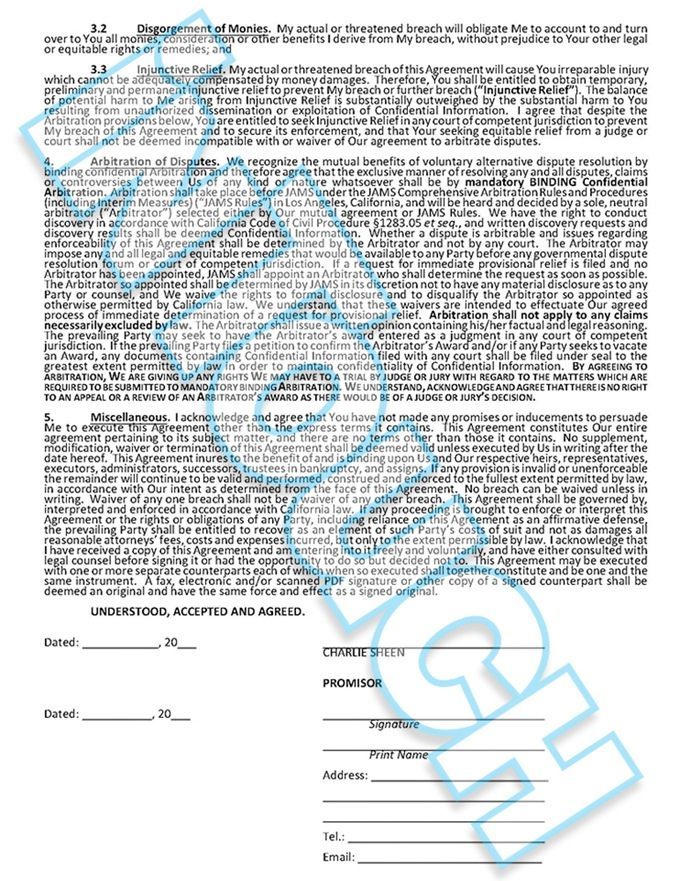 The former "Two and a Half Men" star revealed that he is HIV-positive during an interview with Matt Lauer on NBC's TODAY show, telling Lauer he has been hiding the medical bombshell since 2011, and only came forward to put an end to shelling out millions of dollars in shakedown money.
The above contract forbids anyone signing the agreement from disclosing Sheen's "confidential information" to anyone, public or private, and threatens to fine them $100,000, in addition to any money incurred from breaking the agreement.
Furthermore, the contract declares that disputes between Sheen and sexual partners are to be settled by an arbitrator, not a judge or jury.
"By agreeing to arbitration, we are giving up any rights we may have to a trial by a judge or jury with regard to the matters which are required to be submitted to mandatory binding arbitration," reads a portion of the lengthy agreement. "We understand, acknowledge and agree that there is no right to an appeal or a review of an arbitrator's award as there would be of a judge or jury's decision."
Sheen admitted to Lauer that he had unprotected sex with two individuals since discovering his HIV-positive status, but he said, "The two people that I did that with were under the care of my doctor, and they were completely warned ahead of time."
However, that claim is being challenged by a number of people, and it is being reported that Sheen could face lawsuits from at least a half-dozen women.
TMZ reports six women who had either protected or unprotected sex with Sheen, as recently as last month, contacted the actor this week, and more are prepared to come forward.
Sheen's former porn star girlfriend, Bree Olson, told Howard Stern on Tuesday that Sheen never disclosed his HIV status during or after their relationship, which took place around the time the actor discovered he was carrying the virus.
Olson compared the experience to playing "Russian roulette every day for a year."
A source claiming close ties to the actor told the gossip site that Sheen has had sex with at least 200 people in the last 2 years.