Here's a piece of video that's already gone viral. But clips of the "objective" media hammering Republicans who oppose Obama usually do.
Here's Wolf — The Left-Wing Talking Point Robot — Blitzer in fine form as he passive-aggressively berates Steve Toth, a Republican State Senator out of Texas, for daring to oppose universal background checks.
It would be funny if it weren't so sad, but it is a wonderful opportunity to watch Blitzer go into his Talking Point Daze. First, Blitzer lets his voice go completely monotone; then his eyelids droop to half-mast; then he just keeps relentlessly spouting the left's talking points like a robot on Quaaludes.
It's effective, too, especially in how it doesn't allow Toth to get in a word in and by default makes him look argumentative.
All part of the plan: [click here to watch video]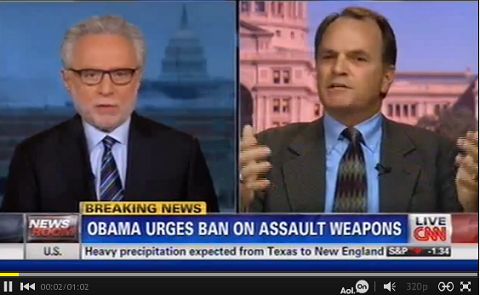 —
This is the point Blitzer was likely worried Toth was going to make — so he just kept interrupting and talking over him:
It is an article of faith that closing the "gun-show loophole" would make America a safer place. But that is what it is: faith. In 2008, three criminologists (one of them not at all friendly to guns) studied the effects on murder and suicide rates in California (which prohibits private sales without a background check) and Texas (which does not). They looked at homicide and suicide rates for adjacent ZIP codes for a week after gun shows. They found no change in suicide rates, and in Texas, which has no restrictions on private party sales, a small but statistically significant reduction in gun homicides. 
Now that CNN chief Jeff Zucker has said that he's in favor of his anchors expressing opinions, especially with respect to gun control, somehow CNN might just do the impossible and start to suck even harder. 
Follow John Nolte on Twitter @NolteNC