On December 3, the New York Daily News ran a story in which they described San Bernardino attacker Syed Farook as "a terrorist," then quickly balanced their observation by suggesting the NRA's Wayne LaPierre is a terrorist too.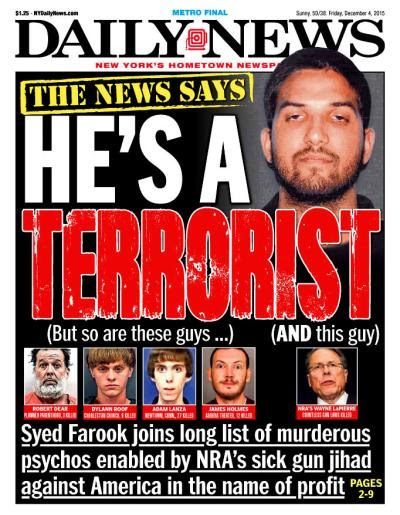 The cover of the NY Daily News showed a photo of Farook with the headline, "The News Now Says He's Terrorist." Below the photo of Farook was a photo of LaPierre with the caption, "But so…is this guy."
The NY Daily News column tries to justify this label because of the fact that Farook–an American citizen–bought his handguns "legally," years ago. Breitbart News previously reported that this means Farook passed a background check to get the guns, years ago.
According to the NY Daily News, it's the NRA's fault that Farook passed that background check–and it is their fault because the NRA opposes adding the names on the no-fly list to a background check database.
Two problems here: First, the NRA opposes including the no-fly list in background checks because it is so imprecise and untrustworthy that it will lead to law abiding citizens having their gun purchases rejected. The Washington Post previously reported that Senator Ted Kennedy's (D-MA) name once appeared on the list and the Huffinton Post seized on the problems with "false positives" when trying to identify people on the list. For example, the HuffPo reported that in 2005, a 4-year-old was falsely identified as being on the list and "was nearly barred from boarding a plane to visit his grandmother."
Secondly, Chicago's ABC 7 reports that Farook flew from Chicago to Saudi Arabia last year. So it does not appear that he was barred from flying anyway.
Follow AWR Hawkins on Twitter: @AWRHawkins. Reach him directly at awrhawkins@breitbart.com.