Two Mexican newspapers and one air taxi service have been added to a list of individuals and businesses that the U.S. Department of Treasury has linked to drug cartels.
The U.S. Department of the Treasury made the announcement Wednesday when it classified the newspapers Unomasuno, Diario Amanecer, and Aerolineas Amanecer as doing business with the Mexican Cartel Los Cuinis. The designation also includes Mexican businessman Naim Libien Tella.
The information provided by the U.S. Treasury Department does not specify the way that the newspapers provided support to organized crime.
As previously reported by Breitbart Texas, in border cities cartels have exerted power over news outlets through the use of a "link" which is a reporter or editor that actually works for a cartel. In the case of the border newspapers, the link controls the content when it comes to violent activities or other stories that the cartel may be interested in.  However the case with Unomasuno appears to show a different working relation since according to the U.S. government, the leadership of the newspaper was closely linked with Los Cuinis.
Under the kingpin designation, U.S. citizens and businesses are prohibited from having ties or relations with those businesses or individuals; the government also moves to freeze any assets that they may have in the country.
As previously reported by Breitbart Texas, Los Cuinis is an offshoot of the Sinaloa Cartel which much like their close allies the Cartel Jalisco Nueva Generacion, has managed to keep a low profile while becoming successful.
"Through its relationship with Naim Libien Tella, the Los Cuinis Drug Trafficking Organization has used the Mexican newspaper Unomasuno to further its drug trafficking activities," said Acting OFAC Director John E. Smith.  "Today's action demonstrates that Treasury, along with its partners in DEA and the Mexican government, will continue to expose and target those who support narcotics traffickers."
Los Cuinis is currently led by Abigael Gonzalez Valencia, who just happens to be the brother in law of Nemesio "El Mencho" Oseguera Cervantes, the current leader of the Cartel Jalisco Nueva Generacion.
The U.S. government described Naim Libien Tella, the vice president of Unomasuno, as someone who had a long relationship with Gonzalez Valencia.  In 2007, Gonzalez Valencia conferred power-of-attorney for his Guadalajara-based investment company, Valgo Grupo de Inversion. That last company has also been singled out by the federal government for their ties to Los Cuinis.
On Wednesday afternoon, Libien Tella published an editorial note on the webpage of Unomasuno where he denounced the accusations levied against him and claimed that his outlets have been highly critical of drug trafficking and the Mexican government.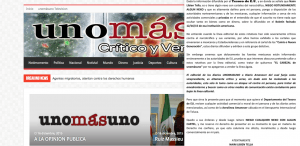 Ildefonso Ortiz is an award winning journalist with Breitbart Texas you can follow him on Twitter and on Facebook.