Trip Gabriel, a reporter for the left-wing New York Times, is publicly whining about being ejected from a private Trump campaign event. Apparently the Times believes it can serially lie about Trump, attack him as a racist, and are still entitled to attend private events:
I was late to Donald J. Trump's unannounced visit to a Pizza Ranch on Friday, his first drop-by of this ubiquitous Iowa chain that is standard stop for candidates, but which Mr. Trump has avoided in favor of boisterous crowds in big halls. …

There was a knot of TV cameras and still photographers, who had been bused to the location.  Mr. Trump was already speaking in a back room.

Barely a minute later, I was ejected from the restaurant by a Trump staff member and a local police officer.

"It's a private event, you have to go,'' the officer said, even though the 20 or so other journalists continued to cover the event.
This isn't the first time Trump has refused access to a hostile media. Earlier this year, Trump barred the Des Moines Register from attending an event in Iowa. Though he was allowed back in after settling down, Trump ejected the detestable Jorge Ramos from an event after the left-wing Univision anchor started heckling him.
The DC Media is weird, and by "weird" I mean completely corrupt.
No president in history has treated the media worse than President Obama, and yet they still lick his boots. But Trump bars a so-called reporter representing a openly-hostile, partisan newspaper,  and this very same media is now screaming Police State!
—
President Trump Jails White House Press Corp https://t.co/oLVMRfeX0h #2017Tweet @mlcalderone

— Ron Fournier (@ron_fournier) January 16, 2016
—
Obama spies on the DC Media and their parents, and still, in order to protect him, the media will not  make him pay any kind of political price.
And now this same media thinks anyone is going to care if Trump boots them from a private event?
In service to the State, the DC Media allowed Obama to completely emasculate them. No one respects quislings.  No one trusts sycophants.
The DC Media created a world that allows politicians to treat them like garbage, and only now are they complaining about it. But it is too late, because in the world they created, hearing The Corrupt moan about Karma is music to the ears of every red-blooded American.
A very large part of his appeal is Trump's willingness to treat the media like it deserves to be treated, which is like corrupt, dishonest stenographers working for Hillary Clinton.  The DC Media is garbage, and unless they are treated accordingly, no Republican can win the White House.
Reminder: Back in July, New York Times reporter Maggie Habermann allowed herself to be literally roped by the Hillary Clinton campaign.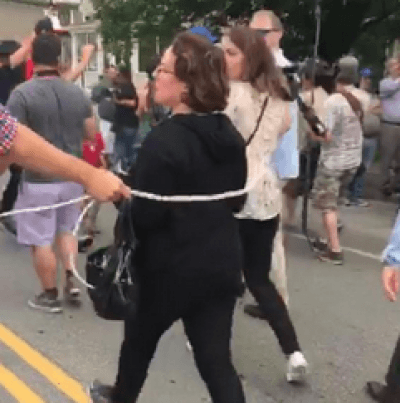 —
Follow John Nolte on Twitter @NolteNC