Out of a total of 59 million Facebook shares of political content, Breitbart has totalled nearly 8 million of these shares, roughly 13.5%.
Breitbart News is only slightly behind The Huffington Post in Facebook shares, whilst smashing the figures of sites such as The Guardian, Washington Post, and The Hill. Digiday notes Breitbart News "punched above its weight," besting competitors which have considerably larger Facebook followings than Breitbart's 2.3 million.
This is all despite Facebook having been reported to have artificially suppressed the content of conservative outlets such as Breitbart, whilst amplifying stories from left-wing outlets promoting the activities of Black Lives Matter.
According to leading analytics giant NewsWhip, Breitbart News is the number one political Facebook page in the world, with two million more engagement than number two Huffington Post.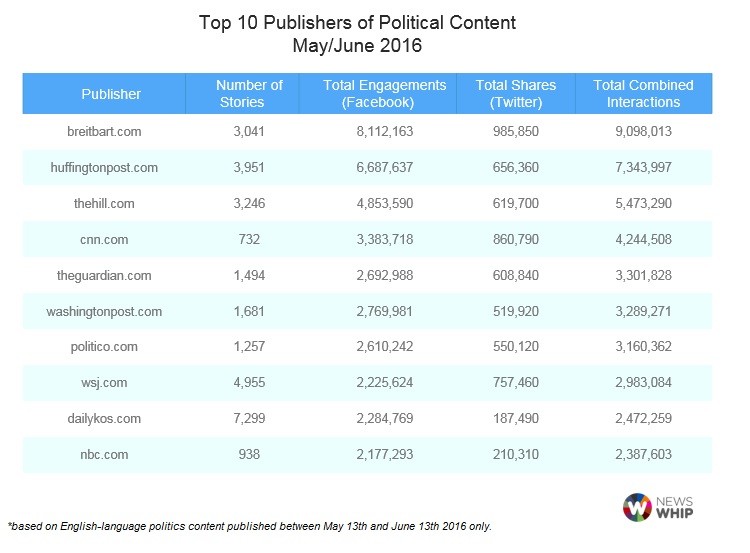 Breitbart broke into the top 10 overall media publishers of July 2016, after the company broke traffic records with 192 million total page views as well as 31 million unique visitors to the site.
The site has also broke a new record in August of over one billion page views since January 1st 2016, compared to 2015 when this figure was surpassed in December.
"We are pleased to see media and marketing industry giants like Digiday covering Breitbart's social media dominance," said Breitbart News CEO and President Larry Solov. "Our social media team has worked tirelessly to build a tightknit and engaged Facebook community. The numbers reported by Digiday today confirm our strategy is working."
"All our social media strategies start from a core premise: respect the intelligence of our 31 million unique readers," said Breitbart Managing Editor and Social Media Director Wynton Hall. "Clickbait and tricky Facebook headlines are anathema to engagement, both algorithmically and functionally. We strive daily to project the values and voice of our readers, and we do so with great respect and admiration for Breitbart Nation and the strong bonds of community we've forged."
"This is another great milestone for our incredible team. What a year," Editor in Chief Alex Marlow stated.
Breitbart News would like to thank all our readers for their continued interest, engagement, and support.
You can follow Ben Kew on Facebook, on Twitter at @ben_kew, or email him at ben@yiannopoulos.net