The marvelous MGM musical, 1948's "Easter Parade," finally arrives on Bluray today. If you're already a fan, it's well worth $14.99. If Bluray was made for anything, it was to recreate the fairy tale beauty of Technicolor. What a feast for the eyes.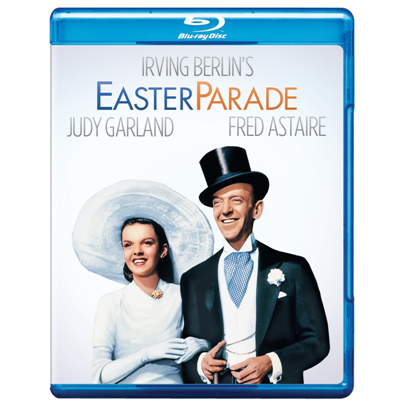 In the extras, co-star Ann Miller (who stops the show with her unforgettable solo "Shakin' the Blues Away") talks about how she filmed that while wearing a brace. Thanks to an abusive ex-husband, Miller broke her back after being shoved down a flight of stairs. A setback to be sure, but nothing like what 25 year-old Judy Garland faced during production — her own demons.
Thanks to her backstage mother, Garland was an emotional wreck before ever stepping onto the MGM lot at age 13. By "Easter Parade," she was a full-blown drug addict and into marriage two of what would become five before her untimely (but unsurprising death) of an overdose at 47. She was also just two years away from the breakdown that would cause MGM to fire her.
And yet,  none of this shows up in "Easter Parade." Judy Garland is every inch the legend; gorgeous (luminous, really), healthy, confident, and putting on a display of talent we will never see the likes of again.
Thanks to the wonderful invention of home video, a one-of-a-kind is forever captured at the peak of her supernatural abilities and screen presence.