For some wonderful reason, 20th Century-Fox sent me 23 titles from its new archive service that allows you to order DVDs of lesser known older titles not available elsewhere. Not one to look a gift horse in the mouth, I am happy to report on each (though I'll probably skip "The Cleveland Show").
–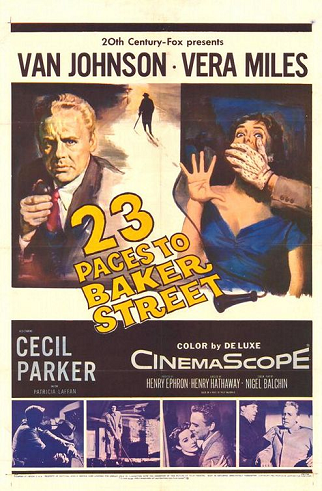 –                                                                 
If you've seen "Rear Window" or "Wait Until Dark," you get the basic concept of Henry Hathaway's "23 Paces to Baker Street" (1956).  Van Johnson is Phillip Hannon, an American playwright living in London and quickly turning into an embittered recluse and alcoholic because of his recent blindness. At a local pub, Phillip overhears what sounds like a sinister plot being hatched between a creepy man and a reluctant woman. With the help of his estranged girlfriend (Vera Miles) and manservant (a wonderful Cecil Parker), Phillip determines to stop it.
The suspenser is far from perfect and pokey in spots. But the way Phillip uses his handicap and playwright skills to unravel the conspiracy is legitimately clever. The story closes strong, though, thanks to moments of real suspense.
The main selling point is Johnson's performance. Just a year shy of forty, the underrated actor had already leaped past the boy-next-door roles that made him a star at MGM, and transformed himself into an actor capable of carrying cynicism every bit as well as William Holden.
"23 Paces" is perfect for a rainy Saturday afternoon. My only complaint is that the Cinemascope is not presented in widescreen.