"Les Miserables" is one I wanted to love. Gathered is a solid cast, a top director (Tom Hooper), and a timeless story of Christian faith, redemption, sacrifice, and forgiveness — all  based on Victor Hugo's classic novel. Unfortunately, the bloat wore me out.
–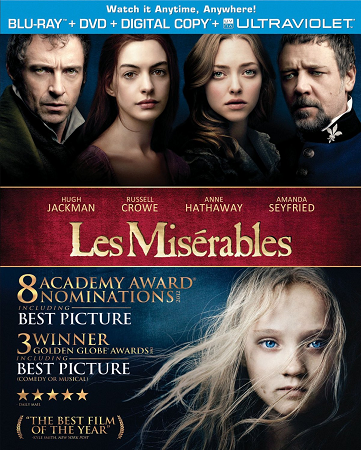 –
The story opens with great promise. After serving 19 years for stealing bread, Jean Valjean (Hugh Jackman) is paroled from a hellish prison run by Emile Javert (Russell Crowe). Desperate and starving, Valjean steals silver from a priest and is immediately captured. When the priest tells the authorities he gave Valjean the silver (and saves him from life in prison), Valjean is so moved, he devotes his life to Christ.
To start a new life, Valjean must violate his parole. Eight years pass, and after he's established as a respected businessman, fate brings Javert back into his life, and a decades-long manhunt ensues.
Though there are a few moving songs, the film is buried in 50 songs overall, most of them tuneless and sing-songy as characters sing dialogue instead of speaking it. This conceit grows tiring, as does an unnecessarily expansive plot that loses momentum whenever the focus leaves Jackman's story, which happens more frequently over the 160-minute runtime.
Jackman, Anne Hathaway, Helena Bonham-Carter, and Sacha Baron Cohen are all stand outs. Crowe, unfortunately, looks horribly uncomfortable, and is unable to summon even a tenth the depth and complicated pathos Charles Laughton so memorably brought to the role of Javert in the fantastic 1935 film version.
Les Miserables arrives on Bluray and DVD March 22nd.