Authorities are investigating a report of two explosions at the finish line of the Boston Marathon.

There were two booms heard from near the finish line inside the Fairmount Copley Plaza Hotel.

Race officials locked down the hotel because of the report. 
I've collected a few images of Twitter of what some are claiming is a bomb that went off at the finish line of the Boston Marathon. Chaos:
Emergency personnel responding: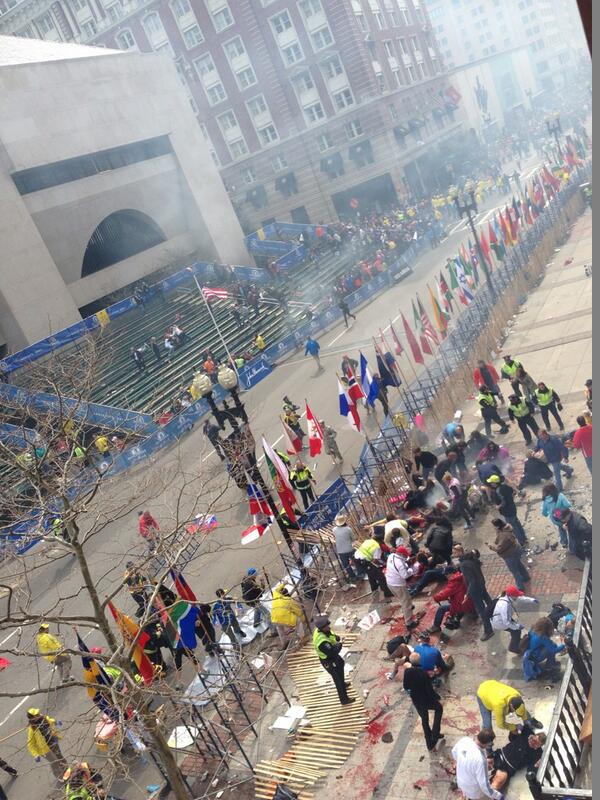 Smoke rising down the street and a 2nd explosion. 
News reports are still in process.
 Update from an ABC affiliate in Los Angeles:
BOSTON MARATHON: MGH trauma nurse says people coming in with severed limbs, kids with severe burns & many casualties bit.ly/11ij7p1

— ABC7 Eyewitness News (@ABC7) April 15, 2013
Credit (AP/WBZTV)
The Boston PD is using Twitter to communicate. Just a moment ago they sent out this update on casualties:
Update 23 injuries 2 dead #tweetfromthebeat via @cherylfiandaca

— Boston Police Dept. (@Boston_Police) April 15, 2013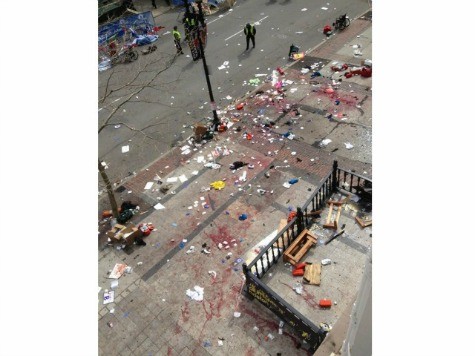 Credit Bruce Mendelsohn
Some readers will recall that after the mass murder in Aurora, CO ABC's Brian Ross speculated on live TV that the shooter might be affiliated with the Tea Party. Apparently, Wolf Blitzer is heading in the same direction today by wondering aloud whether the blasts in Boston have anything to do with "Patriots Day." According to the National Park Service, Patriots Day is "a special Massachusetts State holiday commemorating the opening battle of the American Revolutionary War."
And yes, CNN has now apparently made it explicit suggesting this could be the work of a "right-wing extremist."
Meanwhile the New York Post is reporting that the Boston PD has a suspect. According to the Post "The suspect — a Saudi national who suffered shrapnel wounds in today's blast — is currently being guarded in a Boston hospital. "
CNN is reporting that Boston PD tells them they have no one in custody, however Lisa Dejardins notes this is not necessarily in conflict with Fox and the New York Post. Police may be guarding a person of interest not a suspect.
I won't embed it but This video shot by the Boston Globe is extremely clear and close at the time the bombs went off.
Coming back again to the question of the "suspect" supposedly being guarded at the hospital. CNN spoke to the police commissioner and he suggested it was not true. So probably best to take that NY Post story with a big grain of salt for now.
The President spoke a few minutes ago and, as Ben Shapiro notes, he did not use the word terrorism.
Meanwhile CNN is reporting there were two unexploded devices found in addition to the two explosions which took place. Clearly this was a coordinated attack aimed at civilians. Isn't that terrorism by definition?
Answer to that question is yes according to a senior White House official who says any "event with multiple blasts is terror."
CNN now reporting 2 dead and 110 injured based on reports coming in from multiple medical centers in the area.
The security perimeter around the White House has been extended.
The New York Times reports a bit more detail on the hospital issue:
Police officials said they did not yet have any suspects in custody. A
person briefed on preliminary developments in the investigation said
that members of Boston's Joint Terrorist Task Force were at Brigham and
Women's Hospital interviewing a wounded man seen running from the scene
of the two blasts, near 671 Boylston Street.
No mention of the nationality of this individual but this may clarify what the New York Post reported earlier.