One of the great unheralded screen duos of Hollywood's Golden Era was Peter Lorre and Sydney Greenstreet, two character actors who made a total of nine films together between 1941 and 1946. The most famous of these pairings are the first two, "The Maltese Falcon" (1941) and "Casablanca" (1942), in which both men played memorable supporting roles.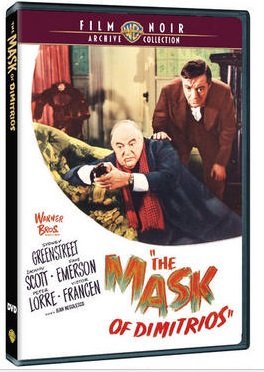 Eventually, though, Warner Bros. would elevate them to starring roles in a few films, including "The Mask of Dimitrios," a film I have literally waited thirty years to see. I was in high school when I read "Masters of Menace: Greenstreet and Lorre," and ever since, the hunt has been on to see all nine of the films that represent their work together — especially the ones where they enjoyed top billing. It is rare for a studio to give character actors their own film, but when they do, and when it works, it is really something special.
I am happy to report that the quirky little noir that is "The Mask of Dimitrios" was not only worth the wait but is also something very special.
In his screen debut, the underrated and very versatile Zachary Scott ("Mildred Pierce," "The Southerner") plays the title character, a cad and degenerate con man named  Dimitrios Makropoulos, who washes up dead on a beach in Istanbul. A Turkish policeman convinces, Cornelius Leyden (Peter Lorre),  a Dutch mystery novelist, to dig into the life of the deceased, promising  that what he finds will fuel a great book.
Intrigued, Leyden travels all over Europe tracking down and interviewing the many sordid associates and lovers of Dimitrios, all of whom remain bitter by his betrayals.
The most intriguing character, however, is Mr. Peters (Greenstreet) an amiable, dishonest, and sometime dangerous criminal who seems as interested in Cornelius as Cornelius is in Dimitrios.
What the story lacks in plot it more than makes up for in atmosphere and chemistry. The scenes and developing relationship between Lorre and Greenstreet are brilliantly written, playfully acted, and disarmingly charming. The movie comes together perfectly once the slippery but likable Peters convinces the bemused but wary Cornelius to team up with him (I won't spoil it by explaining why).
Six down, three to go.  
"The Mask of Dimitrios" is available at the Warner Archive.