The Amazon description gets it wrong. There are not two discs in this handsome 10-film collection, there are 10 discs, and two of the films, "My Darling Clementine" and "The Grapes of Wrath," are dual-sided with terrific extras. "Clementine" includes two version of the film and "Grapes" provides a documentary about legendary 20th Century-Fox studio head Daryl Zanuck.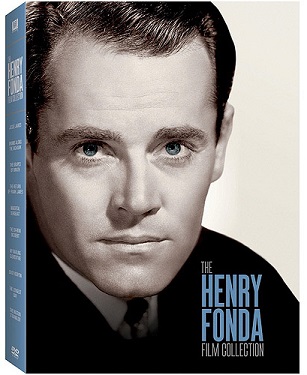 Also included are what you might call "obvious classics," such as "Drums Along the Mohawk," "The Ox-Bow Incident," and "The Longest Day." If you are already a fan of Oscar-winner Henry Fonda, chances are you already own these titles.
What attracted me to this collection, though, were the titles "Jesse James," its sequel "The Return of Frank James," "Immortal Sergeant," "Daisy Kenyon," and the near-classic docudrama "The Boston Strangler" (which Tony Curtis steals.)
What I love about classic movies, and legendary movie stars like Fonda, is that even the lesser-known titles are almost always something special, and that is certainly the case here, especially with the two Jesse James films.  
Although I wish they were in Bluray, 10 films for $32 is still a pretty good deal — kind of a perfect Father's Day gift.  
The collection is also an opportunity to spend some real quality time with an actor who might have always stayed within a certain personae, but who was able to plumb extraordinary emotional depths within that personae. Integrity, competence, decency, masculinity, and an unpredictable flash of temper always simmering; always ready to flare at exactly the right time.
Hollywood used to be great.
"The Henry Fonda Film Collection is available at Walmart.