If you are interested in an exciting, addictive, escapist, slickly-produced, pro-American television series with plenty of action, self-contained episodes, and an over-arching story that allows the characters and their relationships to grow and change, "Burn Notice" is for you. And with almost a hundred episodes produced, season six not only feels fresh, but is an improvement over five.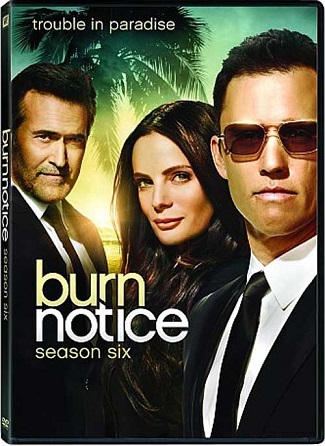 Jere Burns returns as Anson Fullerton, one of the most intriguing and capable  antagonists Michael Weston (series star Jefrrey Donovan) has yet come up against. John C. McGinley (a terrific addition to anything he does) is also on hand for about a half-dozen episodes as Tom Card, Michael's CIA mentor.
But it is the regular cast of characters that always have and always will make the series so special, and this season they are put through the ringer, especially Michael, whose complicated relationship with Fiona (Gabrielle Anwar) takes a major turn as he seems to lose himself within the CIA and in many a revenge mission.
There is also the death of a major character. In a series that has yet to do such a thing, this comes as a legitimate surprise, but also provides a welcome jolt to the emotional lives of a couple of other major characters.
Same Axe (Bruce Campbell) is given much more to do, picking up the mission slack with Jesse (Coby Bell) while Michael is out running around. Sam's humor and easy warmth really are the heart of the show, especially his friendship with and loyalty to Michael. Like Michael's mother Maddie (Sharon Gless), Sam has some strong moments to shine this season — moments fans will cherish.
Jesse is also fitting in better and finally feels necessary. He had been an awkward addition, but (without spoiling anything) because of Fiona's interesting predicament for much of season six, Jesse feels more like a natural part of the cast.
Season seven just premiered on the USA Network and is expected to be the last. You can feel things coming to head in season six, and I mean that in a good way.
"Burn Notice: Season Six" is available at Amazon.com.
Full disclosure: My brother is a full-time editor on Burn Notice, and has been since 2010.