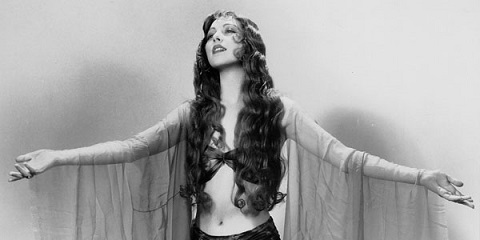 —
Among the rugged peaks that frown down upon the Borgo Pass are found crumbling castles of a bygone age…
Carla Laemmle, who died aged 104 at her home in Los Angeles Thursday, was part of many firsts. Her uncle, Carl Laemmle, was one of the first pioneers of Hollywood, a founder of the still-standing Universal Pictures. Carla Laemmle spoke the first line of dialogue in Hollywood's first supernatural horror film. And Carla Laemmle was the first hundred year-old I have ever met.
Born in 1909, Carla Laemmle arrived in Hollywood as a young girl. Though her uncle — who invited her and her family to California — owned a major film studio, she was never a movie star. Between 1924 and 1939, Carla  appeared in only a handful of pictures, most of them as background dancers. That was her debut role in Lon Chaney's 1925 silent masterpiece "Phantom of the Opera."
Her artistic claim to fame was 1931's "Dracula," Hollywood first supernatural horror film where she spoke the very first line of dialogue (quoted above). Her real claim to fame, though, was her family heritage. Carl Laemmle was one of the Giants who built Hollywood. He was also the first to tumble. In 1936, his mismanagement of Universal forced him to sell. He died broke just three years later.
The fact that I met Carla Laemmle says nothing special about me. Until her death, she was a fixture at autograph shows in the Los Angeles area. She loved to meet and talk with fans. She was patient and sweet, always smiling and proud of her place in Hollywood history.
Bela Lugosi's "Dracula" is one of my all-time favorite films. If I don't watch it sometime around Halloween every single year, I start to get the shakes from withdrawal. What a thing it was to talk with, get an autograph from, and just meet someone who was part of such a thing.
Carla might also hold the world's record for the longest temporary retirement. After retiring in 1939, she returned to movies 62 years later in the direct-to-video "The Vampire Hunters Club" in 2001. Her last film was "Mansion of Blood" in 2012, when she was 103 years old.