A consortium of interested groups launched a giant airship to fly over the NSA's new snooping repository in Bluffdale, Utah. A 135 foot long thermal airship flew over the snoop headquarters last Friday with the message: "NSA Illegal Spying Below" with an arrow pointing downwards at the panopticon.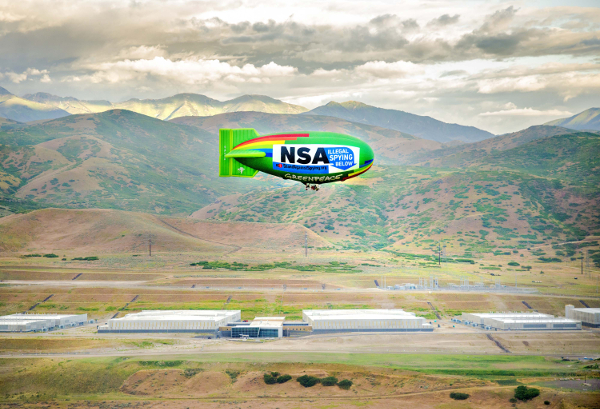 The airship also carried a message to visit the website standagainstspying.org.  The consortium of groups includes "20 grassroots advocacy groups and Internet companies" and was organized by Greenpeace, Electronic Frontier Foundation (EFF) and the Tenth Amendment Center (TAC).
"The public needs to be brought into the Congressional debate around surveillance reform happening right now," EFF Activism Director Rainey Reitman said. "We're flying an airship over the Utah data center, which has come to symbolize the NSA's collect-it-all approach to surveillance, and demanding an end to the mass spying. It's time for bold action in defense of our privacy."

"Our right to privacy is not a partisan issue. It's a human rights issue," said Michael Boldin, executive director and founder of the Tenth Amendment Center. "This coalition gives great hope for the future because it shows that people across the political spectrum can set aside differences to work together for common cause."
Greenpeace, along with the EFF and a large coalition of groups, have filed suit against the NSA for the first amendment violation of  illegally collecting call records.
Images from Greenpeace under Creative Common License