HOUSTON, Texas — The first person to contract Ebola in the U.S., a female nurse, is being treated at Dallas' Texas Presbyterian Hospital but her dog remained in her apartment for over 24 hours following her diagnosis. It is possible that the pet has Ebola — CDC studies have found that dogs may carry and be a source of the deadly virus. 
The Ebola patient is Nina Pham, a nurse who cared for Thomas Eric Duncan. Duncan was a Liberian man who brought Ebola into the U.S. and then died as a result of the deadly virus. 
Pham's dog remained in her apartment until Monday afternoon, when officials moved the dog out of the building with a three-vehicle caravan. The driver of the van was wearing a respirator at the time.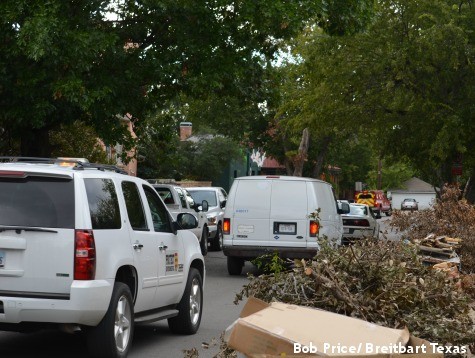 A Dallas Public Information Officer told Breitbart Texas that the dog is now in the hands of the City of Dallas. 
Despite the fact that the canine may be infected with the virus, it will reportedly not be put down. Dallas Mayor Mike Rawlings told the Wall Street Journal, "This dog is an important part of the family to our health care worker. We want to make sure the dog is in a safe place."
A 2001/2002 CDC study looked at 439 dogs from areas of Gabon, a place heavily afflicted by Ebola. Most of the dogs had contracted the disease from licking up vomit or eating other infected animals. 
Scientists ultimately found that canines who contract the disease are able to pass it on through urine, feces, and saliva. Researchers reportedly said, "Given the frequency of contact between humans and domestic dogs, canine Ebola infection must be considered as a potential risk factor for human infection and virus spread. Human infection could occur through licking, biting, or grooming."
While Pham's dog is not showing Ebola signs at this time, that does not mean the animal isn't carrying the virus. The CDC study found that infected dogs can remain asymptomatic, despite testing positive for Ebola. 
Researchers wrote, "Asymptomatically infected dogs could be a potential source of human Ebola outbreaks and of virus spread during human outbreaks, which could explain some epidemiologically unrelated human cases. Dogs might also be a source of human Ebola outbreaks."
Follow Kristin on Twitter @KristinBTate. 
Bob Price contributed to this report.