MONTERREY, Nuevo Leon — At least three Uber drivers were executed while others were targeted in a matter of months, indicating a new front in organized crime.
Like using taxi drivers as lookouts and street level dealers, now local cartels have turned their eyes toward Uber drivers.
The Gulf Cartel and Los Zetas were the first criminal groups that used regular taxicabs to sell drugs and infiltrate the streets of Nuevo Leon with moving lookouts. As Uber recently became popular in the city, authorities are seeing more cases of drivers with the ride sharing service taking part in organized crime.
The industrial state of Nuevo Leon has a small border with Texas and one international bridge.
In six months, Nuevo Leon's Attorney General's Officer recovered evidence of multiple cases where Uber drivers were tied to the transportation of drugs, street-level dealing, robberies, and other activities tied to organized crime. Authorities also caught three murders, a homicide attempt, and a disappearance all tied to the company's contractors.
The first murder case took place in December when the relatives of 38-year-old Gustavo Saavedra Perez reported him missing after he disappeared for more than 72 hours. The victim's body was found beheaded and dismembered in the trunk of a Chevrolet Aveo with Nuevo Leon license plates STM-5003.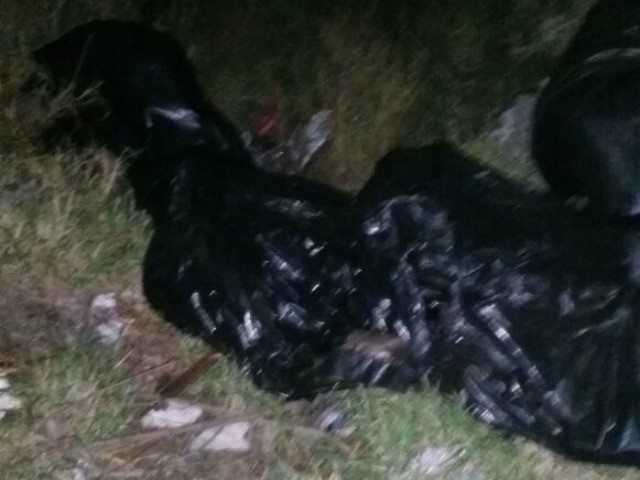 A Nuevo Leon law enforcement official revealed to Breitbart Texas that the GPS system in the vehicle helped investigators find the evidence in the Jardines de Guadalupe neighborhood. The current probe points to the street-level distribution of drugs and the victim's reported addiction to cocaine as a motive for the murder.
In March, Nuevo Leon authorities revealed that gunmen dismembered 30-year-old Mauricio Huerta who was also identified as an Uber driver. The case was also linked to the sale of drugs.
Huerta was beheaded and dismembered, placed inside black trash bags in the town of Santa Catarina, a dangerous industrial suburb of Monterrey. Next to the remains, cartel members placed a poster board message targeting Los Zetas faction, Cartel Del Noreste (CDN). The message was signed by Golden Group and Commander 25 of Los Zetas Vieja Escuela or "Old School".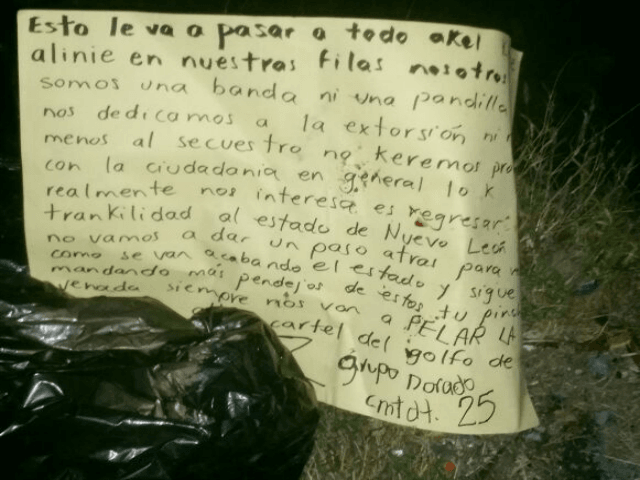 A month later, an Uber driver with a passenger was kidnapped and tortured by cartel gunmen trying to gather information tied to drug trafficking. The victims were dumped on the side of a highway that connects Monterrey with the suburb of Apodaca. The killers believed that 21-year-old Ruben Beltran Sanchez, the passenger, was dead. The victim survived the ordeal and provide authorities with information about the attack.
In May, a taxi driver was shot by cartel gunmen as he pulled into his house in the suburb of Escobedo.
Editor's Note: Breitbart Texas traveled to the Mexican States of Tamaulipas, Coahuila, and Nuevo León to recruit citizen journalists willing to risk their lives and expose the cartels silencing their communities.  The writers would face certain death at the hands of the various cartels that operate in those areas including the Gulf Cartel and Los Zetas if a pseudonym were not used. Breitbart Texas' Cartel Chronicles are published in both English and in their original Spanish. This article was written by Tony Aranda from Monterrey, Nuevo León.