NUEVO LAREDO, Tamaulipas — The criminal organization known as Los Zetas managed to amass a military arsenal in this border city that included Russian-made RPGs, .50 caliber rifles, grenade launchers, machine guns, and thousands of ammunition rounds.
The arsenal was seized by members of the Mexican Army 8th military region during a surveillance operation. Information released by the military revealed that the weapons cache was hidden inside a house controlled by the cartel.
The soldiers were patrolling the streets of the Toboganes neighborhood when they spotted a group of gunmen. As the soldiers approached the gunmen, the group fled setting off a short chase. The gunmen went inside a home and managed to escape through the back entrance.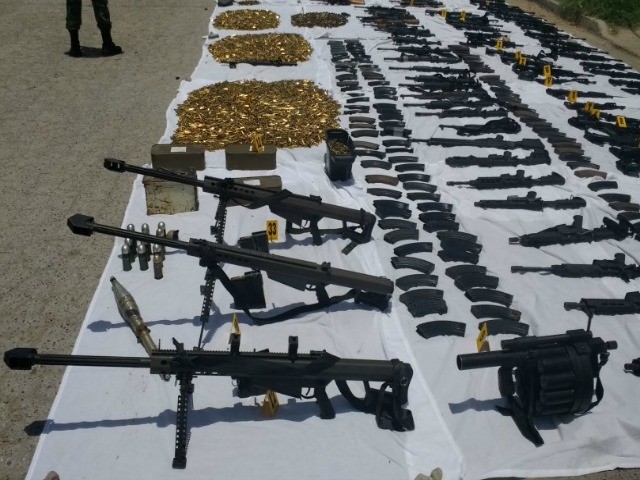 When the soldiers went into the house, they spotted a large weapons cache and began seizing the arsenal. According to the Mexican army, they seized a Russian-made RPG, five grenade launchers, three .50 caliber Barrett rifles, two G3 H&K rifles, 91 other rifles including AR-15s and AK-47s, and 13 .40mm grenades.
Authorities also seized 30,000 ammunition rounds, close to 1,500 magazines, and 20 military-type uniforms and other tactical gear.
Nuevo Laredo is considered a stronghold of the Cartel Del Noreste faction of Los Zetas. The group is led by the relatives of Miguel Angel "Z-40" Treviño Morales, who was captured by authorities in 2013 in Nuevo Leon.
The CDN was created after members of Los Zetas loyal to Zeta founding member Heriberto "El Lazca" Lazcano began to fight with relatives of Morales Treviño, accusing them of having turned on Lazcano.
The tension led to Los Zetas going to war with the Treviño faction or CDN and aligning themselves with the Gulf Cartel. The violence between the two factions has set off fierce violence throughout the state.
Editor's Note: Breitbart Texas traveled to the Mexican States of Tamaulipas, Coahuila, and Nuevo León to recruit citizen journalists willing to risk their lives and expose the cartels silencing their communities.  The writers would face certain death at the hands of the various cartels that operate in those areas including the Gulf Cartel and Los Zetas if a pseudonym were not used. Breitbart Texas' Cartel Chronicles are published in both English and in their original Spanish. This article was written by Francisco Morales from Tamaulipas.