REYNOSA, Tamaulipas — Cartel gunmen dumped the bodies of two suspected rivals as a warning to others in an ongoing turf war.
The gruesome discovery was made along the highway that connects the border city of Reynosa with San Fernando. Tamaulipas state police officers responded to the scene to document the crime and collect bodies.
The bodies showed signs of torture and were bound. The gunmen left a poster-board with a threatening message. The threat was aimed at those backing a cartel boss known as "Panilo" and was signed by Los Metros faction of the Gulf Cartel.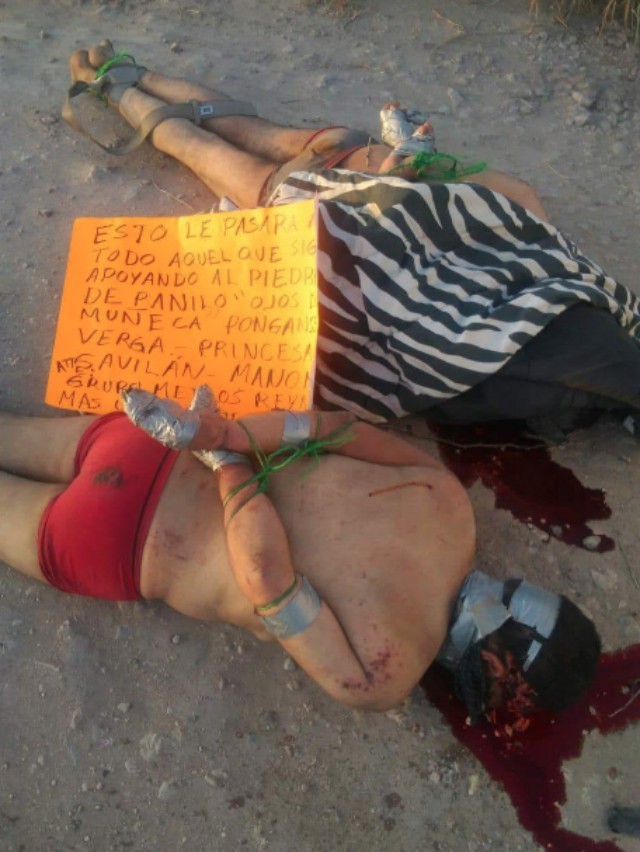 For more than one year, Los Metros have fought the faction led by Petronilo "Panilo" Moreno Flores for control of Reynosa. The struggle led to more than 500 murders since May 2017 when they went to war.
The fighting between the two factions is felt by average citizens who worry about large-scale gun battles and increases in carjackings, armed robberies, kidnappings, extortion, and other crimes used by cartel operators to make quick cash to keep their forces supplied.
Editor's Note: Breitbart Texas traveled to the Mexican States of Tamaulipas, Coahuila, and Nuevo León to recruit citizen journalists willing to risk their lives and expose the cartels silencing their communities.  The writers would face certain death at the hands of the various cartels that operate in those areas including the Gulf Cartel and Los Zetas if a pseudonym were not used. Breitbart Texas' Cartel Chronicles are published in both English and in their original Spanish. This article was written by "A.C. Del Angel" from Tamaulipas.