BROWNSVILLE, Texas — Authorities in the Texas border city of Brownsville charged a local man in connection with a fatal crash near a homeless shelter. The driver allegedly crashed into the bus stop where he struck 18 men — killing eight and injuring the rest. Authorities described the victims as migrants.
The incident quickly became national news as Brownsville is currently one of the border cities experiencing a dramatic rise in illegal immigration. The numbers are expected to rise this week with the end of Title 42 removals projected for May 11.
On Monday morning, Brownsville Police Chief Felix Sauceda revealed details of the incident including the identity of the driver. The chief identified the driver as 38-year-old George Alvarez, a local Brownsville resident with a lengthy criminal history.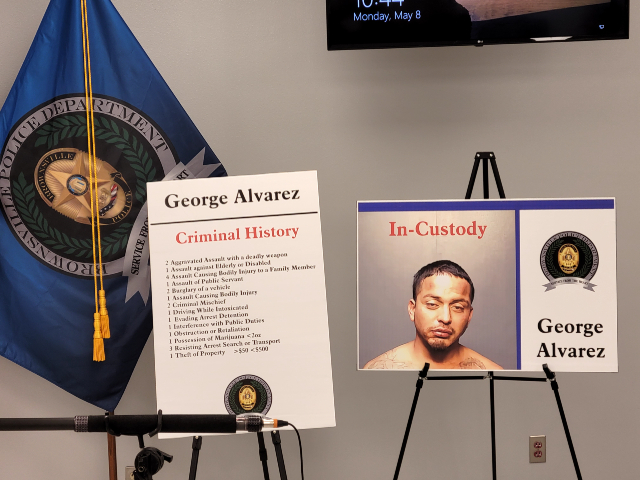 Prosecutors charged Alvarez with eight counts of manslaughter and ten counts of aggravated assault with a motor vehicle. The man remains at the Brownsville Municipal Jail in lieu of a $3.5 million bond set by a local judge. Investigators are waiting on the result of a series of toxicology tests to determine if Alvarez was legally intoxicated at the time of the crash.
Sauceda revealed that Alvarez has not cooperated with authorities during the investigation. His criminal history includes arrests for aggravated assault with a deadly weapon, assault of a public servant, burglary of a motor vehicle, assault with bodily injury to a family member, driving while intoxicated, evading arrest, and several other charges.
The mass-casualty event sparked concerns that the case could be a hate crime or tied to the growing immigration crisis in the city.
Statement from the Bishop on the Deaths of Immigrants near the Ozanam Center in Brownsville pic.twitter.com/Yvz9mJtPM8

— Amigo de Frodo (@bpdflores) May 8, 2023
Sauceda stated that authorities have not fully determined if the case was accidental in nature or intentional.
Authorities received a series of calls for help shortly before 8:30 a.m. in regards to a fatality crash where a vehicle had lost control, ran a red light, and struck 18 individuals, Sauceda said. Initially, there were six fatalities and 12 individuals with critical injuries. Since the initial reports, the number of fatalities increased to eight after two other victims succumbed to their injuries, Sauceda reported. The victims were all males and most of them from Venezuela, the chief stated.
The crash took place at a bus stop outside of the Bishop San Pedro Ozanam Center which serves as a local homeless shelter. In recent months, the shelter also serves the rapidly growing number of migrants in the region.
Ildefonso Ortiz is an award-winning journalist with Breitbart Texas. He co-founded Breitbart Texas' Cartel Chronicles project with Brandon Darby and senior Breitbart management. You can follow him on Twitter and on Facebook. He can be contacted at Iortiz@breitbart.com. 
Brandon Darby is the managing director and editor-in-chief of Breitbart Texas. He co-founded Breitbart Texas' Cartel Chronicles project with Ildefonso Ortiz and senior Breitbart management. Follow him on Twitter and Facebook. He can be contacted at bdarby@breitbart.com.